---
The Mazda MX-5 is an affordable sports car that doesn't compromise on fun driveability and capable handling.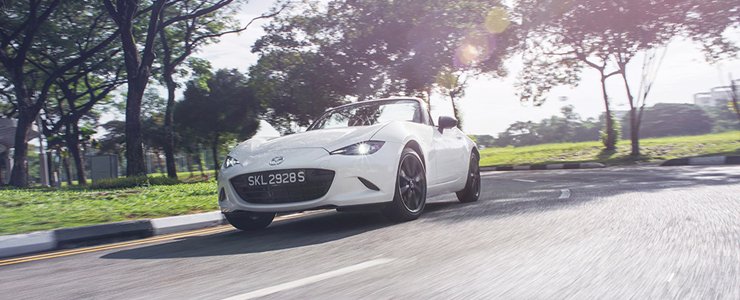 While digital music and electronic book services have freed up the burden of carrying peeving compact discs and heavy hardcovers, the digital trend will never be able to fully replace the feeling you get when holding on to a product of effort, love and hard work in your hands.
And it's pretty much the same when it comes to automobiles. Modern cars have overcome problems from older cars by coming up with automatic gearboxes, power steering, electric seats and tailgates, which make life a lot easier for drivers and passengers alike. But these modernised conveniences don't necessarily make driving more enjoyable.
That's where the new Mazda MX-5 comes in.
The iconic two-door roadster has always been about unadulterated driving enjoyment for purists whose budgets aren't big enough for, say, a Porsche Boxster. And at $159,888 (as of 16
th
December 2015), the fourth generation manual variant of the MX-5 continues this very trend.
Up close and Personal
The lightness of this spanking eye-catcher is something to relish. At just over a tonne, the MX-5 is some 100kg lighter than before, which also makes it more fuel efficient. On first glance, you could mistake this for a roadster that's penned by an Italian designer, thanks to sleek headlamps and a rather large grille that form an aggressive and menacing, yet cheeky fascia.
The sheet metal flows coherently, too, with edges joining nicely to ensure an overall design that's easy on the eyes, with or without the roof in place. Speaking of which, the manual roof is a cinch to operate once inside. You release a cache, fold it down behind you and, voila, you're all set for the wind-in-your-hair experience.
At 3,915mm long, 1,735mm wide and 1,230mm high, the roadster is a compact machine that doesn't compromise on comfort or driver-centricity. Main controls to the car's settings as well as infotainment system are within reach on the steering wheel while the entire interior is brought up to date with Mazda's MZD Connect infotainment system.
The lack of rake adjustments for the steering wheel or the height alteration for the driver's seat may be an issue to most but not to this pint-sized driver. For someone slightly over the height of 1.6 metres, you sit in nicely with a clear view of the road ahead while maintaining sufficient headroom with the roof in place.
Materials used are a notch above what you'd expect for a car that focuses mainly on driving. Hence, it does come as a surprise the moment you strap yourself in. Like its exterior, there's a form of harmony to the layout and design that's somewhat lacking in its predecessor.
This model is no longer being sold by local distributors
Engine Type
:
4-cylinder in-line 16-valve DOHC SKYACTIV-G
Horsepower
:
118kW (158 bhp) / 6000 rpm
Torque
:
200 Nm / 4600 rpm
Transmission
:
6-speed (M) SKYACTIV-DRIVE
Acceleration (0-100 km/h)
:
7.3sec
Fuel consumption
:
14.9km/L