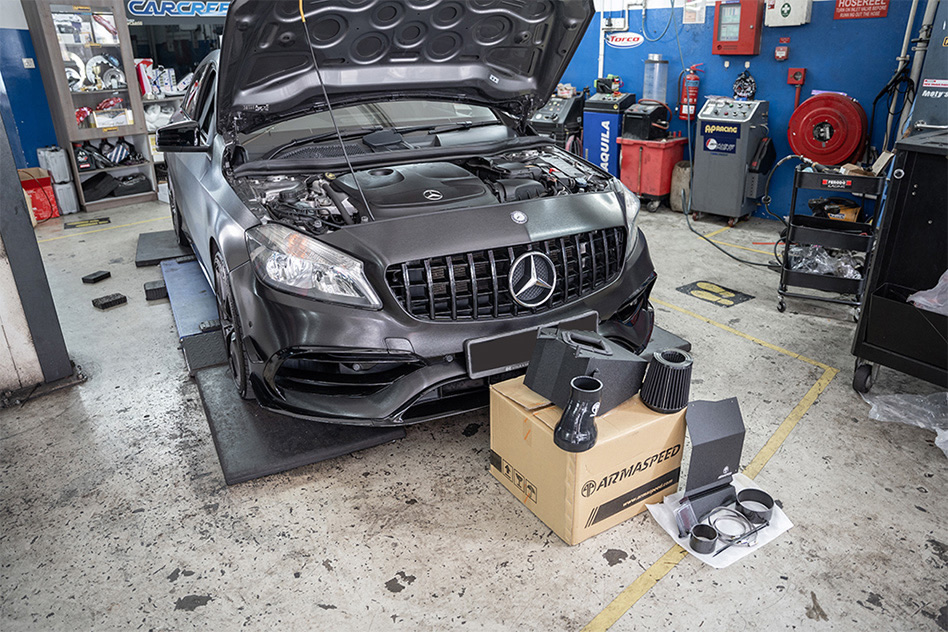 5 MODS
TO CUSTOMISE YOUR
MERCEDES - BENZ
Text: Goh Zhi Xuan
Photos by: Low Fai Ming, CarCreed
28 July 2020
Mercedes-Benz cars are world renowned for its superior engineering. But what if you want more from yours? Here are 5 modifications that you should do.
European cars are perceived to be a cut above the rest. Amongst them, Mercedes-Benz is probably one of the most well-known brand, all thanks to its superior engineering and build quality.

But, what if you already own one and yet are looking for a little more oomph and character from your luxury German machine? Welcome to the world of aftermarket modifications. Car modifications used to be a complicated affair. It is something that can result in a severe headache if done wrongly.

Today, with the help of CarCreed Pte Ltd, we are sharing with you five simple modifications to make your Mercedes-Benz look and drive better, maximising enjoyment, with zero complications.
1. Help your car breathe better and get rewarded with improved performance
An engine produces power by combusting a mixture of air and fuel. To increase power, you will have to increase the mixture. One simple way of improving your car's engine's performance is hence with a less restrictive air intake system that lets your engine gulp down plenty more air.
Armaspeed offers a variety of intake upgrades to suit your needs, ranging from its replacement air filters to its Alloy, and Carbon intake systems. Armaspeed replacement air filters maximise the vehicle's original airbox with its 3D design to ensure the highest air flow. By utilising three layers of sponges with different density, it is able to improve airflow while providing efficient filtration.
The cold air intake systems offered are of a sealed design, made either out of lightweight alloy or carbon fibre with a high quality finishing that looks right at home on your German machine. Armaspeed's intake systems are designed specifically for your car, to bolt-on directly without any modification required. This means that it is fully reversible as well. CarCreed is an Authorised Dealer for ArmaSpeed products in Singapore.
2. Stay flat through corners with improved stability from upgraded suspensions
The original suspensions on most cars are designed with comfort in mind, and this applies to Mercedes-Benz as well (apart from its fire-breathing AMG cars). In fact, its cars are renowned for their cushy ride. Hence, if you were to drive a little harder, or even subject your car to the abuse of track driving, you will quickly reach the limits of the stock suspension.
Upgrading your car's suspension to a sportier offering can make it handle much better in bends and corners. Stiffer suspensions with stronger damping can help reduce excessive body roll and keep your car stable when cornering. CarCreed recommends the quality suspensions from Bilstein. From the factory replacement B6 absorbers to the B16 high performance coilover, which allows the adjustment of vehicle ride height and damping, Bilstein has something to fit the needs of every driver.
3. Power is nothing without control - stop on a dime with a big brake upgrade
With improved power and cornering abilities, your car can now go faster than it originally could. In order to maintain the balance, your car should have a worthy brake as well. Seasoned drivers will tell you that brakes are every bit as important as everything else when it comes to high performance driving.
It is recommended to improve the stopping power of your car to match its newfound performance. CarCreed, an authorised dealer of AP Racing products in Singapore, recommends AP Racing brake kits for your Mercedes-Benz. AP Racing is an established, leading manufacturer of performance brake and clutch systems for road and race cars. Depending on your needs, you can choose from a variety of brake kits from the popular CP9200 to the range-topping Pro 5000 R.
4. Make driving more enjoyable - dress up the interior of your Mercedes-Benz!
As drivers, we spend a lot of time inside our car. It makes a lot of sense to dress up the interior of it to enhance the driving experience. Carbon fibre became popular in motorsport usage due to its favourable properties - high strength and low weight. It also has a unique weave pattern which has since been favoured by enthusiasts and manufacturers as a mark of sportiness.
CarCreed offers its own in-house brand of carbon fibre interior panels, bits and pieces and Armaspeed's carbon fibre shift paddles to beautify your Mercedes-Benz. Apart from the traditional weaved carbon fibre, the latest forged (or chopped) carbon fibre parts are also available to give your car's interior a fresh new look.
5. Like all machineries, a car requires the best maintenance routine to perform its best
Whether your car is fully stock, or heavily modified, it will require routine maintenance including engine oil and oil filter change in order to offer peak performance and reliability. CarCreed recommends Motul's quality engine oil to meet the demands of a Mercedes-Benz. In fact Motul's engine oil such as the 8100 X-cess 5w40 is officially approved by Mercedes-Benz.
When it comes to servicing, CarCreed adheres to the recommendation and service intervals provided in the owner's manual to ensure the most adequate servicing packages - that is just how meticulous CarCreed is.
CarCreed Pte Ltd - a workshop that believes cars deserves only the best
CarCreed's team believes that cars are not just a mode of transport, but rather, something that deserve love, care and attention. As such, you can be assured that your car will be treated with the utmost care at CarCreed. All parts that are recommended to customers are tried and tested by the team. Hence, customers have come to trust CarCreed to know what the best upgrades are for their cars.
CarCreed specialises in Mercedes-Benz and is a workshop trusted by local Mercedes-Benz community, SGMerc Telegram group. To appreciate the group's support, CarCreed is offering special rates on servicing packages for all members of SGMerc.
CarCreed is located at 13 Kaki Bukit Road 4, #03-22/23, Bartley Biz Centre Singapore (417807). The workshop is open on Mondays to Fridays from 10:00am to 7:00pm and Saturdays from 10:00am to 3:00pm.
To find out more about
CarCreed Pte Ltd
, you can call 6386 8033 or visit its
Facebook page
.
Here are some related articles that might interest you
6 types of car performance modifications to make your car faster on the track
5 types of car aesthetic modifications you should do
We found 10 cool-looking Japanese car modifications right here in Singapore!
Recommended car accessory & car camera workshops to make your car practical
Here are 8 car accessories & audio workshops that are open even on Sundays