Having problems locating inspection centres? Here's a list of vehicle inspection centres for your convenience.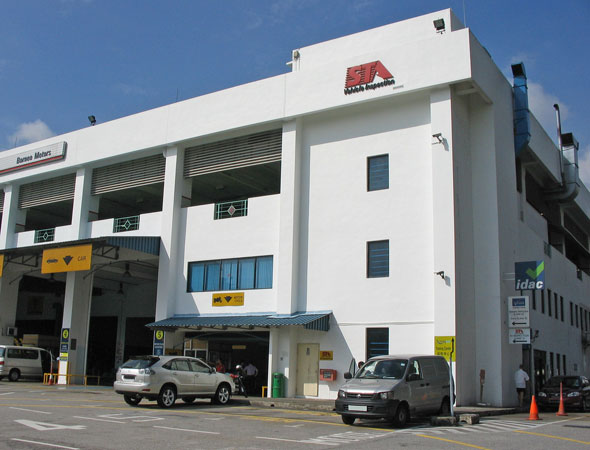 The Sin Ming STA Inspection Centre is located at the Citycab building

Cars older than 3 years have to be sent for inspection annually. The LTA (land transport authority) will send an inspection notice 3 months before the expiry of your road tax. Vehicles which are not sent for inspection cannot have road taxes renewed. Cars which are below 3 years do not have to undergo inspection.

STA Inspection Centres

Address
•
Sin Ming Inspection Centre
302 Sin Ming Road Singapore 575627
Tel: 64521398
•
Jalan Boon Lay Inspection Centre
249 Jalan Boon Lay Singapore 619523
Tel: 6261 6178
Operating hours:
Mon - Fri : 8am to 8pm
Sat : 8am to 5pm
Closed on Sun and Public Holidays
Charges for Motorcars:
First inspection: $56.00
Subsequent inspections: $28.00 (failed previous inspections)
VICOM Inspection Centres
Address
•
Bukit Batok Inspection Centre
511 Bukit Batok St 23 Singapore 659545
Tel: 64584555

VICOM is a subsidary company under ComfortDelGro

•
Sin Ming Inspection Centre
385 Sin Ming Drive Singapore 575718
Tel: 64584555
•
Changi Inspection Centre
20 Changi North Crescent Singapore 499613
Tel: 64584555
•
Yishun Inspection Centre
501 Yishun Industrial Pk A Singapore 768732
Tel: 64584555
•
Kaki Bukit Inspection Centre
23 Kaki Bukit Ave 4 Singapore 415933
Tel: 64584555
Operating hours:
Mon - Fri : 8am to 6pm
Sat : 8am to 5pm
Closed on Sun and Public Holidays
Charges for Motorcars:
First Inspection: $56.00
Subsequent inspections: $28.00 (failed previous inspections)
JIC Inspection Centres
Address
•
Pioneer Road Inspection Centre
53 Pioneer Road Singapore 628505
Tel: 98639639
•
Ang Mo Kio Inspection Centre
21 Ang Mo Kio Singapore 569118
Tel: 64847370
Operating hours:
Mon - Fri : 8am to 5.30pm
Sat : 8am to 5.30pm
Closed on Sun and Public Holidays
Charges for motorcars:
First inspection: $56.00
Subsequent inspections: $28.00 (failed previous inspections)
*Note: All inspection charges are correct as of 11/04/05
Related Categories
Recommended Merchants(View all)