Ride-hailing firm Grab officially took over American rival Uber's South East Asian business yesterday. Here's what you need to know in a nutshell and why you should care.

The Story:
After weeks of speculation and both parties remaining tight-lipped about the deal,
Grab
, a regional firm headquartered here, took over American rival Uber's South East Asian (SEA) business yesterday for an undisclosed sum.
Key facts you must know:
Grab will acquire Uber's operations and assets in SEA, including its transport and food businesses.
The Uber app for SEA markets will close after 8th April. Commuters can continue to use the Uber app until then. The UberEats app will operate until the end of May.
A Government review of private-hire car services is still underway, with talk of future regulation and possible licensing.
Why you should care:
For commuters, the acquisition of Uber by Grab, and thus the elimination of direct competition, has sparked fears of a price hike in the future. This is understandable as Grab would no longer have the impetus to offer competitive prices. By establishing a monopoly on the private hire market in Singapore, Grab could conceivably have price-setting abilities.
With Grab having removed ComfortDelGro taxis from its JustGrab service less than a week ago, the future synergy between Grab and the largest taxi operator in Singapore remains uncertain at this present moment.
The acquisition does not include Lion City Rentals (LCR), an Uber subsidiary which holds a large fleet of rental cars. The status of private hire drivers contracted to LCR is presently up in the air, but Grab is exploring the possibity of roping in LCR as a fleet partner of Grab Rentals.
This takeover deal will increase the likelihood of Government regulation, to ensure that consumers are not worst off from this deal.
What you can do:
Presently, all we can do is to wait and see how this merger pans out in the coming months. Grab will need to lay out how it will manage all of Uber's different assets and partnerships.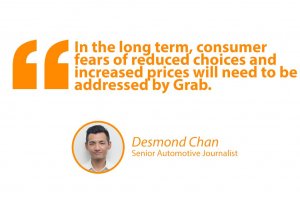 Editorial Reaction


Grab's takeover of Uber in SEA is shocking, but perhaps unsurprising. Despite its meteoric seven-year rise, Uber has consistently been losing money. This is further compounded by recent scandals regarding founder and ousted CEO
Travis Kalanick, along with questions of unethical practices within the company. This sale to Grab can be seen as a means of loss mitigation.
The acquistition of Uber by Grab raises many pertinent questions for Singaporeans, both in the short term and the long term. The immediate impact of this deal will be most directly felt by private hire drivers, especially those contracted to LCR. How Grab deals with possible integration of ComfortDelGro back into its services will also have an impact on the choices that consumers will have.
In the long term, consumer fears of reduced choices and increased prices will need to be addressed by Grab. Could this also pave the way for new competitors in the future? After all, anyone looking to enter the market need to only undercut one firm in the future, instead of two. Ultimately, the question of whether this deal will benefit consumers is contingent on Grab's ability to fulfil its promise that this will lead to a more efficient operation and transport network in the future.
Related Categories
Recommended Merchants(View all)