| | | |
| --- | --- | --- |
| | Sold by | Parallel Importers | 2 dealers |
| | Built in | Japan (launched 2018) |
| | Variants | |
Get the dealers selling the Honda Stepwagon to contact me with their best deals.
20km/L
148bhp
20km/L
148bhp
Tel: 63666000 / 97616200

Tel: 62417460 / 91062017
Showing 2 dealers selling this Honda Stepwagon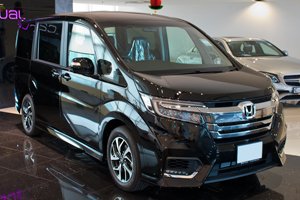 Honda Stepwagon
4.5 stars - based on 2 reviews

| | |
| --- | --- |
| | Most versatile and spacious 7-seater, and quite powerful too. |
After owning a few MPVs, I have fairly good idea what I want my perfect MPV to be. Basically it should be huge on the inside, small on the outside, has good FC of >10km/L, proper modern safety package, reliable gearbox, flexible and quality interior, modern features. And the Steppie fit the description to the T. As it is near end of life and has undergone facelift 2 years old, it is choke-full of features and updated to the latest standards compare to its peers. In fact the latest Freed and Fit/Jazz has features carried over from this Steppie, so it is definitely quite updated. And rumours has it that the new model to be debutted next year would be without Waku Waku door, so that make this model worth to get if it come to be true. But nobody can be sure.
Read More »
This is a good car. Bought a freed before this. Sold it after a few months just to own a honda stepwagon. The car is spacious and if u are familiar with honda freed. It quite similar to it in terms of interior. It has a large cabin space for a 1.5cc car as it has a height of 1.83m. With its turbo charged engine, it picks up speed very well especially with the eco mode turned off. It can combine with honda sensing to cruise at 135km/h with minimum lane assist. The waku waku door is also an unique feature specific to this car as it allows one to open the backspace either from the side or bottom up.
Read More »


Topic Title
Replies
Last Action