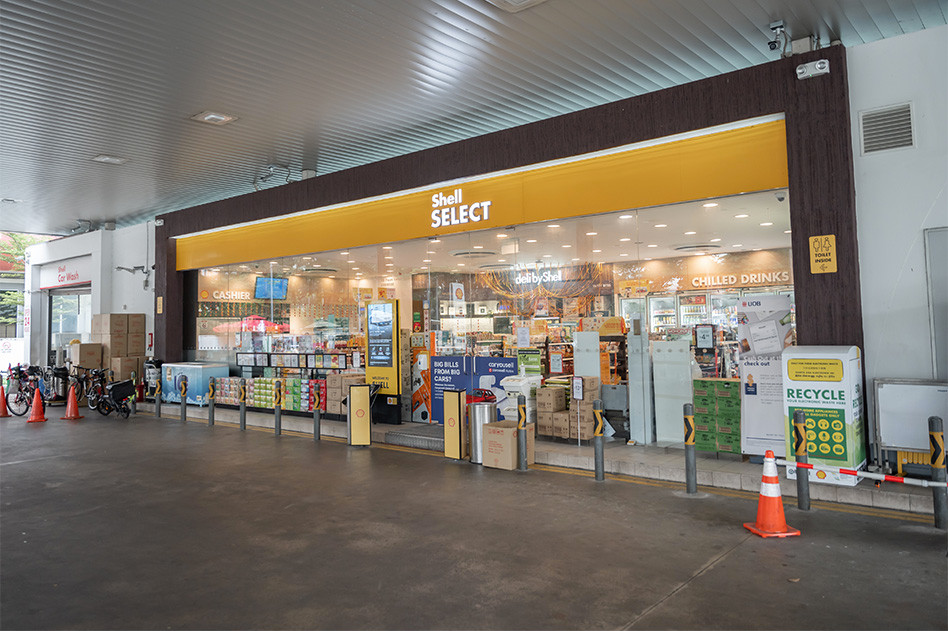 HERE'S HOW TO KEEP YOUR CAR CLEAN EFFORTLESSLY
Text | Goh Zhi Xuan
Photos | Low Fai Ming
7 JULY 2022
Just swing by a Shell station and you can find everything you need to keep your car sparkling clean and comfortable without much hassle.
Shell stations have always been a staple sight in Singapore. Driver or not, you would surely have noticed Shell's presence on our sunny island. In fact, this year, Shell is celebrating 100 years of supporting mobility in Singapore, having evolved from simply a fuel provider to the preferred pit-stop destination it now is.
Indeed, Shell sets out to do more than just providing the fuel that keeps your car running, it offers quality products and services to ensure that your car runs well all the time. Did you know that you can get a full suite of car care products from Shell stations? You don't have to look everywhere, just a quick stopover at a Shell station, and you can be on your way to a fruitful detailing session.
Shell's Car Care products are all you need for a comfortable and reliable drive

You don't always have to spend lots of money to get your car detailed by a professional. Cleaning your car yourself isn't a complicated or difficult process with the right tools. With Shell's complete and easy to use range of car care products, all you need to give your car a complete cleaning is a source of water, which can be found at many HDB carparks.
A shampoo and a rinse get your car squeaky clean!

The first step after pulling up to a washing bay, is to roll up your sleeves and whip out the range of car care products from Shell. To clean the exterior, the products to use are the Premium Car Shampoo and the Wheel Cleaner. Shell's Premium Car Shampoo is a highly concentrated solution - just 100ml of it is good for 5 litres of water.

First, you'll want to apply the Wheel Cleaner on your dirty wheels, this will allow time for the solution to get into effect, 'grabbing' onto the dirt while you clean the car's body. We always start off with a pre-wash rinse to get rid of contaminants on the car's exterior. The next step is to lather on the solution that we have prepared with Shell's Premium Car Shampoo, while rubbing on the more stubborn dirt or grime to loosen them up. Though, you wouldn't have to spend too much effort, as we've found out this shampoo is very effective!

After this, all we have to do is to rinse everything, Shampoo and Wheel Cleaner, off the car to achieve a sparkling clean finish. And that's it, a quick and easy exterior wash for your car!
A few spritz and a wipe gives you speedy protection for your car

With the car thoroughly cleaned, you'll want to protect and seal the surface to make sure the shine lasts. And this is where Shell's Speed Wax comes in handy, unlike traditional wax which can be a hassle to apply, Speed Wax's application is easy and speedy!

All you need is to spray it onto the freshly washed car (you can also apply it to the headlights to make them extra shiny!), followed by wiping it off with a clean, fresh microfiber cloth to avoid micro scratches. Once done, the glossy surface is obvious, and if you were to sprinkle some water on it, you'll immediately notice the water-beading effect.

For the complete look of a fresh, new car, we need to make sure that nothing is neglected - including the tyres. Shell's Tyre Shine is packaged in the form of an aerosol can, making it extremely easy to use. Simply spray it onto the tyres' sidewalls and wipe it over after five to ten minutes, that's all!
A wipe to the left, a wipe to the right, a clean cabin feels just right!

With the considerable amount of time we spend driving about in our cars, the cleanliness of the interior is something that shouldn't be ignored. And the great news is, Shell's got us covered as well.

Just two wipes is all it takes to clean an interior surface with the Shell Interior Cleaner! Spray some onto a clean microfiber cloth (Shell sells it as well), then spread and wipe it on the surface, flip your cloth and use the dry portion to wipe the surface dry and it's done! No need to make a mess with soap and water.

During your day-to-day drives, Shell offers yet another simpler and quicker option for a quick cleanup - Shell Disinfectant Sanitising Wipes. These wipes are able to get rid of 99.9% of germs and are safe on all kinds of materials and surfaces.
Clean and protect, that's the Shell way of car care

Singapore's temperature and the strong sunlight can be pretty harsh on the interior of your car, which is why it is recommended to apply products that will protect the dashboard, seats and other pieces. Unsurprisingly, Shell have this covered as well. With its Dashboard Cleaning Wipes, you can keep vinyl, rubber and plastic surfaces clean.

Meanwhile Shell Leather Wipes offer protection to leather surfaces with its specialised formulation. You can use it on the dashboard, seats and trim pieces to keep them fresh and protected. Furthermore, it can also be applied onto the rubber seals or plastic trim and molding pieces to restore that deep black luster as well!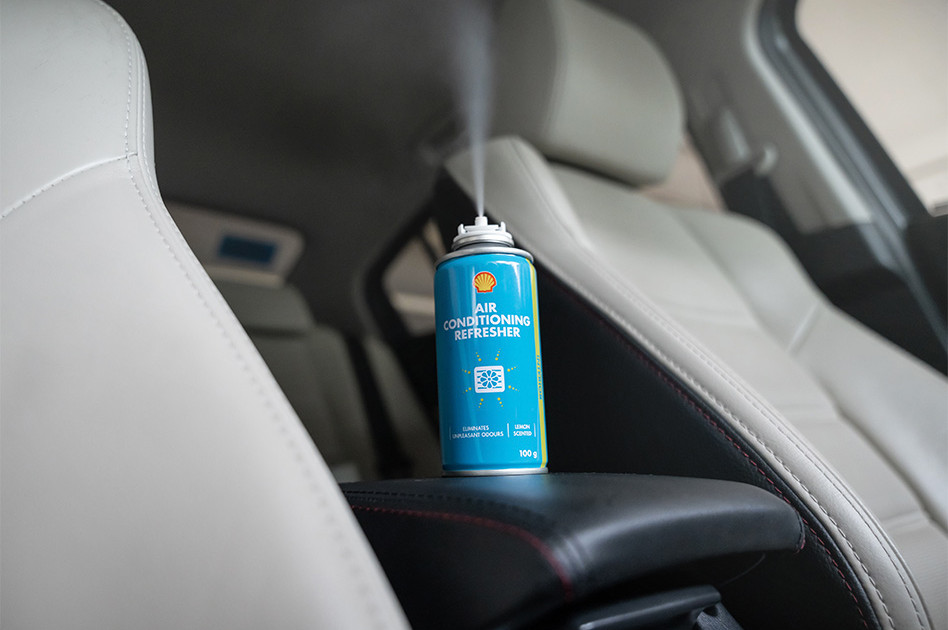 For the cherry on top, a clean and fresh smelling interior!

Now that the entire interior is clean and nice, it's time to put the Shell Aircon & Interior Refresher to use, this anti-bacterial product is able to freshen up the air conditioning system in just 10 minutes.
If you have ever dabao-ed food for the family, you would know how the smell lingers within the car and its aircon system. Well, this is the product to solve the issue.

All you have to do is to start the car, turn on the aircon to maximum power, set to recirculation mode and activate the product (do ensure that nobody is inside the car). Now just close the door and let it do its work, after 10 minutes, you can now open the doors and ventilate the car for 6 minutes. And that's it, a clean and fresh environment for an enjoyable drive.

And that's it, with the aid of Shell car care products, now the entire car is clean and well protected from inside out!
Happy and safe motoring on all aspects with these Shell products

Apart from the products that make cleaning your car easy, Shell also has several products to support and make your daily drive safer and much more enjoyable.

Available at Shell stations is a really useful product that can get you out of a puncture without much hassle. The Shell Tyre Repair is an easy-to-use can that re-inflates and seals your tyres in emergency situations, allowing you to continue your journey without the need for a spare tyre.

If you love the clean and shiny paintwork on your car, you should always carry a bottle of Shell Insect and Tar Remover in your car. This fluid allows you to remove not just stubborn road grime and tar, but also contaminants such as insects, tree sap and bird droppings from your car's paint effectively and safely.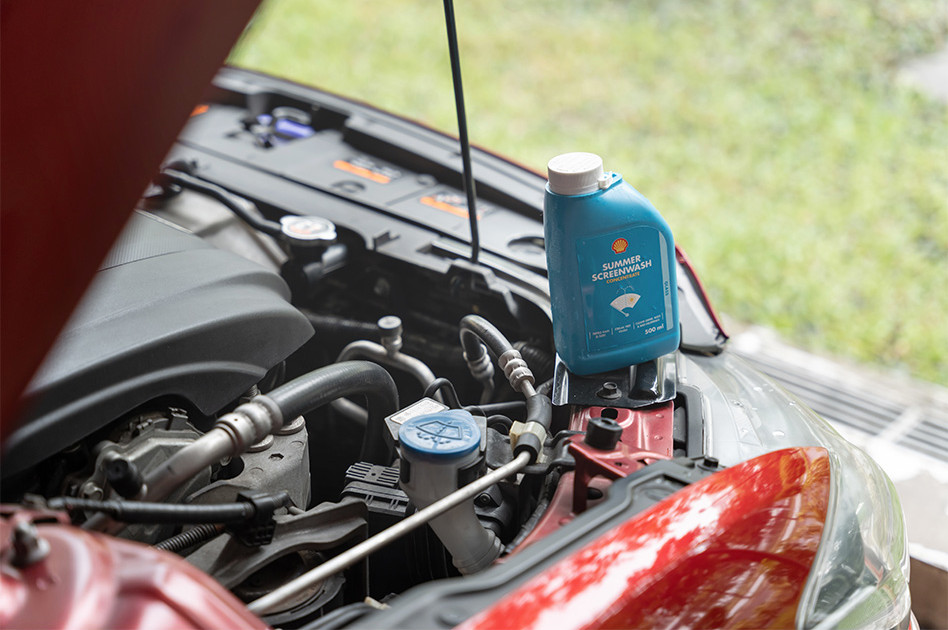 To ensure a crystal clear vision while driving, you should also look into getting the Shell Summer Screenwash concentrate, simply mix it with demineralised water and fill your car's screenwash reservoir with it. The next time you need to get rid of any dirt or bug splatter on the windscreen, you know it wouldn't be an issue.
Should you ever face the need to top up vital fluids such as coolant, brake fluid or engine oil, you can also get all of them at the Shell station - it sure helps that the majority are open for 24 hours a day.
Shell is celebrating 100 years of serving motorists in Singapore! From now till 31 Aug 2022, get a free Shell tissue box with minimum $70 spend on any Shell fuels. Also look out for exciting $1 anniversary deals every month from June to August! Find out more
here
.
From 6 - 31 July, get a free Shell Car Care sponge with a minimum of $20 spent on any Shell Car Care products.
Find out more about Shell's Car Care products here:

www.shell.com.sg/shellcarcare