---
With its light nose, keen steering and strong handling balance, the 2.0-litre Kia Stinger punches well above its weight.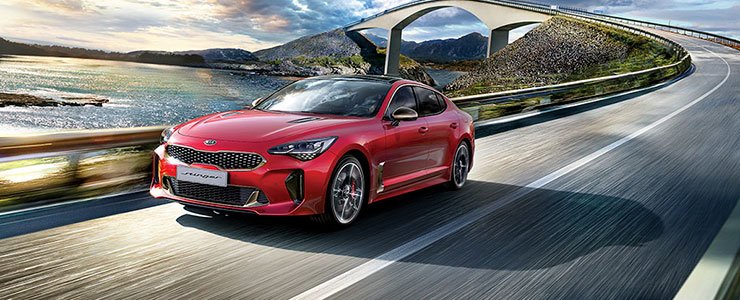 There are many reasons why we might visit Mallorca, Spain. It could be to see its art and culture, for business, to attend an event or just simply to spend time away from the hustle and bustle of our city life.
In our case, we were there to test drive the Kia Stinger, the latest and quite possibly the boldest road-going car the Korean carmaker has created.
With swooping dimensions of 4,830mm x 1,870mm x 1,400mm (L x W x H), it also says that Kia is making a serious attempt to penetrate into the premium executive sedan segment - one that is dominated by the likes of the
Audi A5 Sportback
and the
BMW 4 Series Gran Coupe
.
But Kia has been upfront and humble about its ambitions. While the Stinger is created with the German carmakers within its sight, it is swayed towards showcasing to the world what it's capable of, and according to Kia, that may just attract more customers to showrooms all around the world.
So just how capable is this car?
Glad you asked. The 2.0-litre Kia Stinger that you see here looks just as bold and bears the same sharp-edged name as its stronger
3.3-litre
brethen that we tested earlier. But sporting a smaller displacement capacity doesn't mean it's any less of a car.
Along the twisty roads of sunny Spain, the 2.0-litre Stinger clearly holds its own very well, with a lighter nose, talkative steering and tight handling balance that allow you to throw the car from one bend to the next with reckless abandon without breaking a sweat of nervous hesitation.
A lot has to do with the fact that it weighs over 120kg lighter than the 3.3-litre variant. Of course being able to punch out a healthy dose of 255 horses (right-hand drive models will get a lower 247bhp) and 353Nm of torque to its rear wheels contributes a lot to the fun factor, too.
In this case, just because its performance figures are significantly lower than its brethren doesn't mean it's a bad thing. Putting the car through its paces, it's apparent that the car hits a sweet spot, removing that unnecessary bulk where there's just too much power or twisting force for its own good.
Is it as comfortable as it is fun?
Absolutely. And this is where you'll start questioning yourself on why you purchased that Audi or the Merc when you could have just settled for something that's better and for a more affordable price, no less!
You don't quite get the same high levels of comfort that you would in, say, an Audi or a Lexus, but the cosiness does grow on you. After driving less than an hour while meddling with the infotainment and controls, we realised just how easy it is to live with the Stinger.
Buttons and controls aside, the car absorbs bumps and ruts on the tarmac around town in its stride without having to concede to its sporty nature. As a result, you immediately feel more luxurious and thus more receiving than what you're used to from the brand that gave us the
Kia Soul
and the
Kia Carens
.
On practicality, the Stinger scores high. Apart from having more head and legroom as compared to the BMW 4 Series Gran Coupe, its boot space is also hard to fault. At 406 litres, its luggage capacity may be smaller than the said Bimmer, but fold the rear seat down and the space will increase a couple of notches for your Ikea run.
Should I stay or should I go?
The Stinger's undoubted talent is how well-rounded and natural it feels without being overwhelming.
What's more impressive about the Kia is that it doesn't pretend to be something it's not. It's not as dynamic as the 4 Series Gran Coupe, nor is it as premium at the Audi A5 Sportback, and the Korean carmaker is humbly upfront about that.
But what the Stinger lacks, it certainly makes up for with its reassuringly fast and amusingly predictable character, which is exactly what's needed on our jam-packed roads.
And just for that, it goes without saying that you should stay for it.
The 2.0-litre Kia Stinger will be launched at next year's
Singapore Motor Show
, which will be held on the second week of January 2018, and will be available for orders then.