Strutting down the tarmac catwalk with its eye-catching sheet metal, the new Peugeot 3008 proves to be a visual treat as well as a capable family crossover.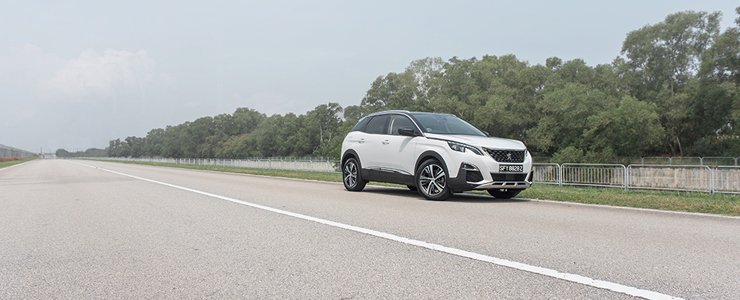 In the sea of crossovers today, it's hard to be wowed by one, much less stand out from the crowd if you plan on owning one. And because of the sheer amount on our roads, crossovers have become rather bland to look at, to be honest.
It's hard to not stereotype the next crossover you see as a potential private-hire vehicle or simply the daily runabout for someone who's lost interest in owning an interesting car but that thankfully isn't applicable to this one, the new Peugeot 3008.
The 3008 isn't exactly new to us, per se, because we've driven the
diesel variant
earlier this year. Unfortunately, apart from that test unit, no other diesel 3008 ever made it to Singapore.
However, the new 3008 is now available to order in three different petrol trims, of which the one you see here is the highest.
Unlike its
predecessor
, which wasn't much of a visual treat, the new 3008 now looks the part of a proper crossover, and then some. It seems like Peugeot has finally decided which way they want the car to go, with more ground clearance and a bolder front.
In fact, the carmaker has sprinkled so much design magic on the new 3008 that it makes the playful
MINI Countryman
look stodgy. Where its predecessor has failed with its outlandish French quirk, this new car looks premium, outside and in.
The main draw inside is the transformed dash and control layout, of which materials are well-made and tasteful. The shapes of the dash and console are stylish and contemporary, but not at the cost of simplicity or ergonomics.
There are two configurable screens, one for the driver's instruments and the other for nav and entertainment, which feature crisp graphics and smooth operation.
While not as slick as the ones found in higher-end Audis, it's refreshingly different and heaps better than Peugeot's cars of the past decade.
It's not stingy on equipment either, featuring niceties like well-shaped seats, a panoramic sunroof, blind spot monitoring and lane keep assist.
More impressively, even the basic 1.2 Active comes with the aforementioned touchscreen and instrument display, as well as Apple CarPlay and Android Auto connectivity, rear air-con vents, a reverse camera with birds-eye mode, lane departure warning and automatic lights and wipers.
As a crossover aimed at families, the 3008 doesn't fall short. It offers ample space for five occupants and a sizeable 520-litre boot.
The only niggle we had with the car was a few slightly disappointing fit and finish issues, such as the misalignment of the glovebox, dashboard and A-pillar panels. That, however, is easily overlooked once you consider how premium to the touch its cabin materials are.
The 3008 isn't all show and no go, too, an unsurprising character that's already displayed by Peugeot's earlier models, the
308
and the
508
.
Thanks to the softish springs and well-judged dampers, this is a fine-riding crossover that's perfectly suited for the city (cruising will matter more to family buyers) but one that's still able to hold its ground when you decide to drive it quickly.
In bends, the unique flat-top and flat-bottom steering is well-oiled and nicely geared, feeling willing and responsive without any pretence of over sportiness.
At the same time, the 1.6-litre turbocharged petrol unit under the hood is generally livelier, quieter and also quicker than the diesel, shaving nearly four seconds off the century sprint. In that sense, it provides enough grunt to make the occasional spirited driving strangely enjoyable.
For a past underdog that costs $158,999 (as of 22
nd
December 2017) in a segment dominated by the Germans, the upmarket relocation of the Peugeot 3008 couldn't come at a better time. Not only is it cheaper than its rivals, it's now thoroughly capable of taking the fight to them.

Engine Type
:
4-cylinder in-line 16-valve DOHC Turbocharged
Horsepower
:
122kW (163 bhp) / 6000 rpm
Torque
:
240 Nm / 1400 rpm
Transmission
:
6-speed (A) EAT6
Acceleration (0-100 km/h)
:
8.9sec
Fuel consumption
:
17.2 km/L