The new Opel Insignia Grand Sport is a fastback offering that has good looks, comprehensive equipment and generous space.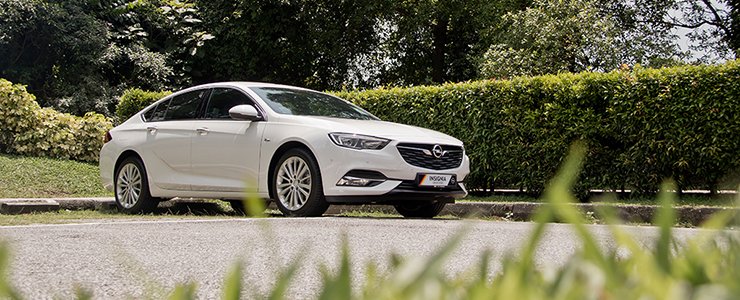 For quite awhile now, if you wanted a fastback car, you had a relatively narrow set of options - either an Audi (
A5 Sportback
,
A7 Sportback
) or a Bimmer (
4 Series Gran Coupe
).
Now, the fastback design seems to having something of a mini resurgence, what with the new
Kia Stinger
and the
Volkswagen Arteon
all getting into the action. Opel has decided that it is going to throw its hat into the ring as well, with the introduction of the new Opel Insignia Grandsport.
The Insignia's a sedan, no?
Well, sort of. The previous generation
Opel Insignia
(which this car replaces) was sold in Singapore in the more traditional sedan body style, although a liftback variant was available overseas. This new second generation model ditches the four-door saloon version, and is thus available only either as a fastback or an estate.
It certainly looks good, the new Insignia. It's definitely a big car, but we like how the sharp head lights and narrow nose create a more angular and tapered fascia, while the stretched-out and low-slung silhouette reminds us of a whale in graceful motion.
It is pretty damn big, eh?
Compared to the previous generation Insignia that this model replaces, the new Insignia is a hell of a lot bigger - 55mm in length and a whopping 92mm in wheelbase, to be exact. And to put this into context, it's bigger than a
Mazda6
or a
Volkswagen Passat
. This translates to generous interior space, especially the legroom at the rear.
As fair as cargo space is concerned, the Insignia has a 490-litre boot, which can be expanded to a maximum capacity of 1,450 litres with all three rear seats folded flat. And with the fastback design, all of that boot space is more easily accessible.
Where the Insignia loses points is with the quality of the cabin. It's generally on the plasticky side, and we're not particularly fond of the high-gloss plastics (which tend to collect fingerprints).
That said, equipment levels are probably the Insignia's best selling point - it's quite impressively equipped for its $170,000 price point. You get a head-up display, a nine-speaker Bose sound system, Apple CarPlay and Android Auto, as well as inductive charging for smartphones.
Additionally, the Insignia is also equipped with a pretty comprehensive suite of driver assistance and safety systems. Rear Cross Traffic Alert, Autonomous Follow Assist, Lane Keep Assist, Pedestrian Detection, Blind Spot Monitoring and Park Assist, it makes for a fairly comprehensive list that stands out for cars at this pricepoint.
How does it drive?
Decently enough, but it's nothing overly remarkable or memorable. The chassis is pretty solid, and the ride well-sorted. On the go, it's genuinely comfortable and pliant, offering a more than cushy cruise at highway speeds. And while the car is big, it never feels overly cumbersome.
The biggest issue is the drivetrain, a turbocharged 1.5-litre unit mated to a six-speed automatic gearbox. The engine produces a modest 165bhp and 250Nm of torque.
While certainly usable for all sensible intents and purposes, it tends to be a little hesitant and unwilling when you want to wring power from it. You do have to wait for the power to come, and even then there's not a great amount of it on offer. The gearbox is also quite unwilling to shift down to immediately give you the acceleration you need.
Thus, this particular variant is best-suited for gentle-footed drivers who don't particularly need or want to rush from place to place. If it's power you want, you'll have to plump for the more expensive 2.0-litre option instead.
Where does it stand, then?
Overall, the new Opel Insignia Grandsport is a car for sensible people looking for practicality, function and safety. Yes, the drivetrain is certainly on the lethargic side, but we suspect that's not high on the priority list for most sensible drivers.
This particular variant clocks in at $174,888 (as of 18 February 2018), which slots it in between the Japanese cars and the more premium German brands like your Audis and BMWs.
If you're looking for a handsome and stylish fastback with a wealth of equipment, the Insignia isn't a bad choice at all. It ticks enough boxes for it to be a practical daily car for most drivers. But if you're looking for something that delivers greater excitement and driving pizzazz, you'll probably have to look someplace else.

Engine Type
:
4-cylinder in-line 16-valve DOHC Turbocharged
Horsepower
:
121kW (162 bhp) / 5600 rpm
Torque
:
250 Nm / 4500 rpm
Transmission
:
6-speed (A)
Acceleration (0-100 km/h)
:
9.4sec
Fuel consumption
:
16.3 km/L