---
The Opel Insignia Grandsport is more stylish and has more safety features but the Skoda Superb is a tough powerhouse of space and comfort to beat.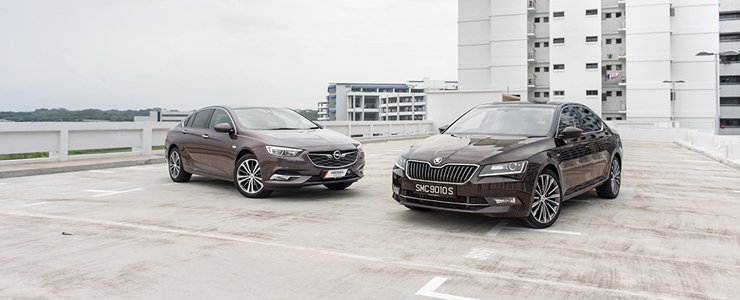 If you've got about $160,000 to spend on a new family sedan, European carmakers Opel and Skoda may have something to interest you.
While not as popular as models like the
Mazda6
and
Toyota Camry
, the
Opel Insignia Grandsport
and the
Skoda Superb
have proven to deserve more of our local limelight. So for car buyers who prefer something more left-field in choice, the question is, which one shines brighter?
Sharply designed German, cavernous Czech
On first glance, the Insignia Grandsport is the slicker car, thanks to its sharp head lights and sharper tapered fascia. It's also a little longer than the Superb at 4,897mm, although narrower and shorter in height.
But despite being the shorter car from bumper to bumper, the Superb has a 12mm longer wheelbase, measuring 2,841mm, which equates to more legroom on the inside, and also a little more hip, shoulder and headroom.
The additional amount of space the Superb offers is immediately noticeable especially at the rear. Opening up its sunroof, too, adds to the feeling of airiness within. At 584 litres, there's also more boot space here than in the Opel's 490 litres. And in terms of niceties, it's also the Superb that is ahead in this game.
Our Superb test car, in Laurin & Klement trim, comes equipped with handy features such as ventilated and electronically front seats, and a more intuitive touchscreen infotainment display (both are equipped with Apple CarPlay connectivity) than the Insignia Grandsport, in Innovation Premium Edition trim.
More importantly, in terms of cabin fit and finish, it's also the Superb that boasts a higher level of attention to detail and quality. It looks and feels like the more expensive car, although at $149,900, it costs $19,877 lesser than the Opel (as of 21 October 2018).
However, if you prefer a racier cockpit, the Insignia Grandsport, with its all black cabin trims and paddle shifters, may just be your cup of tea.
Czech's got smoother moves
On the road, the Superb continues to score more points with its smoother, punchier powertrain and more refined ride.
Strangely, the more affordable Superb comes equipped with a larger 2.0-litre engine making 217bhp and 350Nm of torque while the Insignia Grandsport employs a 1.5-litre that outputs 162bhp and 250Nm. Both are on par where fuel economy is concerned, with averaged returns of about 12km/L.
Thus, in a drag race from 0-100km/h, it's no surprise that the Superb is the quicker car, taking just seven seconds. The Insignia Grandsport trails behind at 9.4 seconds, which still isn't shabby by any means.
And the way in which the Superb dishes out its horses, too, is creamier than the Opel. More importantly, with its adaptive dampers, the Superb offers a more silken ride. There is a magic in the way the Skoda moves and swallows road imperfections, mimicking the comfort levels of much more expensive cars.
However, that's not to say the ride quality of the Insignia Grandsport is unsettling. It's just set up to ride a little more sportily, which isn't a bad thing either.
If you enjoy driving, the Opel is the one that offers more feedback and a little more character than the clinical Skoda.
Thankfully, where it loses out in refinement, the Opel claws back with its added safety features such as Lane Keep Assist and Automatic Emergency Braking.
Seems like an easy decision, then?
Comparing prices and what they offer, it certainly shows that the Superb is easily the more bang-for-buck one of the two. You get more space, more comfort and more refinement at a lower price tag.
But this is partially due to the Insignia Grandsport's $20,000 VES surcharge. Thankfully, Opel fans can rest assured that Auto Germany, the local Opel distributor, is doing all it can to rectify this as of now.
It's got more character and more style but this time around, we're giving the win to Skoda.

Engine Type
:
4-cylinder in-line 16-valve DOHC Turbocharged
Horsepower
:
121kW (162 bhp) / 5600 rpm
Torque
:
250 Nm / 4500 rpm
Transmission
:
6-speed (A)
Acceleration (0-100 km/h)
:
9.4sec
Fuel consumption
:
16.3 km/L

Engine Type
:
4-cylinder Turbocharged
Horsepower
:
162kW (217 bhp) / 6200 rpm
Torque
:
350 Nm / 4400 rpm
Transmission
:
6-speed (A) DSG
Acceleration (0-100 km/h)
:
7sec
Fuel consumption
:
15.1 km/L