With the new Vehicular Emissions Scheme kicking in, here's a breakdown of how it affects the banding and pricing of some popular car models in Singapore.

The story:
With the new
Vehicular Emissions Scheme
(VES) kicking in on 1
st
January 2018, here's a list of
popular car models
and their respective bandings before and after the implementation of the VES.
Key facts you must know:
1. The VES has replaced the outgoing
Carbon Emissions-based Vehicle Scheme
and will run for two years starting from 1
st
January 2018.
2. The new scheme will be reviewed again before it expires.
3. Under the VES, four more pollutants will be taken into consideration on top of carbon dioxide.
Why you should care:
1. With the implementation of stricter vehicle emissions standards, some popular car models may see a significant change in their rebates or surcharges.
2. Whether you like it or not, the change in rebates and surcharges, as well as its effect on new car pricing, is here to stay for the next two years.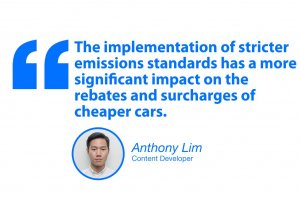 Editorial reaction:
Based on the popularity of these models and the fact that several of them are relatively new to the market, these are the groups of vehicle buyers that will be the most affected by the VES.
Looking at these numbers, cars in the ~$100,000 price range are considerably more affected by the VES than those sitting higher up in the price range, as the effects of the new banding will disproportionately affect cheaper cars.
| | | | | |
| --- | --- | --- | --- | --- |
| Models | CEVS Band | Rebate/Surcharge | VES Band | Rebate/Surcharge |
| BMW 5 Series Sedan 530i | B | Neutral | B | Neutral |
| Honda Civic 1.6 VTI CVY | B | Neutral | B | Neutral |
| Honda HR-V 1.5 DX CVT | A4 | $5,000 Rebate | B | Neutral |
| Hyundai Elantra AD 1.6 | B | Neutral | B | Neutral |
| Mazda3 Sedan 1.5 | A4 | $5,000 Rebate | B | Neutral |
| Mercedes-Benz E-Class E200 | B | Neutral | B | Neutral |
| Mitsubishi Attrage 1.2 CVT | A3 | $10,000 Rebate | A2 | $10,000 Rebate |
| Nissan Qashqai 1.2 DIG-T CVT | A4 | $5,000 Rebate | B | Neutral |
| Toyota Corolla Altis 1.6 CVT | A4 | $5,000 Rebate | B | Neutral |
| Toyota Prius Hybrid 1.8 CVT | A1 | $30,000 Rebate | B | Neutral |
| Volkswagen Golf TSI | A3 | $10,000 Rebate | B | Neutral |
Related Categories
Recommended Merchants(View all)