---
Audi has opened a dealership in Ho Chi Minh City (Saigon), marking the company official entry into the Vietnamese market. Audi move reinforces its position in the region, where the brand is currently scoring its highest growth rates.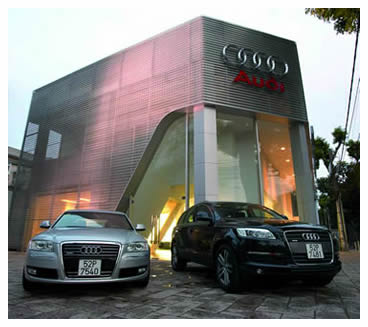 "The developing markets of South East Asia represent a great opportunity for us," said Peter Schwarzenbauer, Member of the Board of Management for Marketing and Sales. "This year we'll sell around 40 percent more cars than in 2007. For the next few years I anticipate constantly high growth rates of 20 to 30 percent in the region."
In 2007 the brand with the four rings sold 1,390 automobiles in South East Asia. In Vietnam, Audi is venturing into one of the region's most dynamic economies: The economic boom of the past few years has been especially beneficial to the premium market in Vietnam, which experienced a disproportionately high growth rate. Audi's most important location in South East Asia to date has been Singapore, where AUDI AG is represented by a wholly owned National Sales Company.
For this year, Audi is projecting total sales of about 1,300 cars in the city state - effectively doubling its unit sales in just two years. This makes Audi the fastest-growing premium brand in Singapore, with a market share of 11.2 percent (January - September 2008; 8.0 percent in 2007).
In the Vietnamese market, Audi will cooperate with the Automotive Asia group, which will sell the premium cars with the four rings as the exclusive importer. Initially Audi will introduce two top-of-the-line models: the Audi A8 4.2 L FSI, the brand's flagship with a long wheelbase, and the Audi Q7 4.2 FSI. Next year the model range will be increased by the Audi A6, the Audi Q5 and the Audi A4. In addition to the showroom, the Ho Chi Minh City facility offers customers with the brand's exclusive Audi Service and Audi Genuine Parts in its 1,600 square metre (over 17,000 square feet) dealership.