5 WAYS SINGAPORE'S FIRST
CAR MEGASTORE IS LARGER THAN LIFE
Text | Desmond Chan
Photos | Low Fai Ming, Cars and Coffee Singapore
26 October 2020
Sometimes, size does matter. When it comes to a new car showroom (or any kind of shop), size is undoubtedly important - more space means more choices for the customer.
At over 100,000 sqft, the brand new Cars & Coffee Singapore Megastore is the largest new car showroom in Singapore, and it is truly larger than life. Occupying the sixth floor of the Carros Centre, the new Cars & Coffee Megastore is one stop location for all your car buying needs.
Here are five things that make the new Cars & Coffee Singapore Megastore a one-of-a-kind shopping experience:
1. Largest car collection

With over 1,000 cars on display, this is the largest new car showroom in Singapore. The extensive collection ranges from entry-models from brands like Honda, Toyota and Suzuki to high-end luxury cars from the likes of Bentley and Porsche. Unsure about what you want? With plenty of options for different price points and customer needs, you won't be needing to hop from one showroom to the next. Here, you get everything under one roof.
2. Staple choices
At the Cars & Coffee Megastore, you will find plenty of staple choices, including the new Honda Fit or the
Mercedes-Benz A-Class
, as well as new choices such as the Toyota Raize or the new
Mercedes-Benz GLB-Class
. And, more importantly, the cars here are all ready to go - these
VAC Ready Stock
cars mean that all that is required is a COE, and you can immediately take delivery of your new car and start driving.
3. Rare finds
Are you looking for something a little more out of the ordinary? You might just find it here. You will find models like the new
Land Rover Defender
and Mercedes-Benz G-Class on display. And, if there's something you have in mind that you don't see, Cars & Coffee has the capability to bring it in for you.
4. Golf carts

No, Cars & Coffee are not selling golf carts to customers. However, there are golf carts on site to ferry customer around. Why? Well, considering the showroom spans more than 100,000 sqft, getting around on foot can become tiring. To provide customers the best experience, and to facilitate quick viewing of the cars available, two golf carts have been procured to ferry customers around.


5. Customer service

At the Cars & Coffee Megastore, you'll also find a spacious and luxuriously appointed lounge area that you can relax in. Here, you can snack on pastries and drink specially brewed coffee, while the highly-professional sales people walk you through the different car buying options available to you.
6. Personalisation options

In the customer lounge, you will also find a huge array of car-related add-ons, such as accessories and upgrades like media players and rims, to cosmetic accessories and solar film and car exterior paint protection film. Also, you will find plenty of personalisation options to craft the car of your dreams. With a wide range of exterior paint colours, as well as different interior leather options with different grades of leather and a huge array of colours, there is no doubt that you will find a combination for even the most eclectic palette.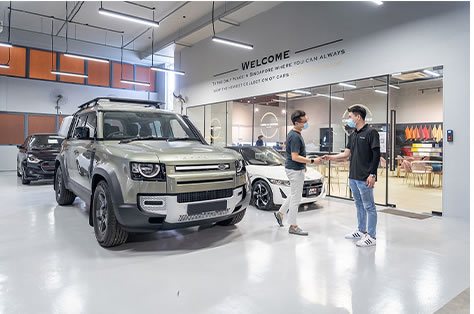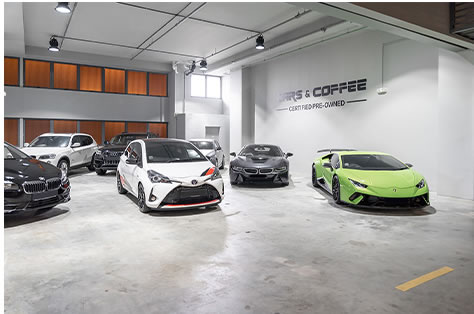 On top of brand new cars, Cars & Coffee Singapore also offer a wide selection of certified pre-owned cars as well. The new Megastore is a complete one-stop solution for all customers.
The brand new Cars & Coffee Singapore Megastore is now open, and is located at 60 Jln Lam Huat, Level 6, Carros Centre Singapore (737869). It is open from 10:30am to 7:00pm daily. To get in touch, you can contact Cars & Coffee Singapore at 6266 5555, or make an online enquiry or appointment
here
.