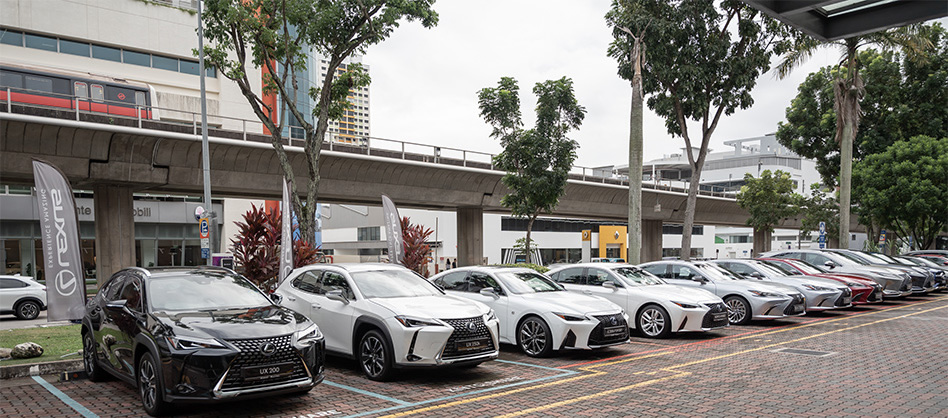 MCF CHECKS OUT THE
CUTTING-EDGE HYBRIDS FROM LEXUS
Text | Mattheus Wee
Photos | Low Fai Ming
14th SEPTEMBER 2022
After a long hiatus, MCF kicked off its first post-COVID Hangout in an exciting morning with Lexus by getting up close with the marque's modern hybrid lineup.
It has been quite a while, hasn't it?
After an extended hiatus forced by the pandemic, MCF Hangouts returned with a bang at the Lexus Boutique along Leng Kee Road, where close to 40 MyCarForum (MCF) members showed up bright and early to learn more about the marque's full hybrid models.
Arguably no other premium manufacturer in Singapore can boast of as complete a full hybrid lineup as what one can find at Lexus today. Perfected over years of experience and expertise, an electric motor and combustion work together in the firm's full-hybrid system to deliver superlative refinement, power and fuel efficiency.

Lexus has also dexterously adapted the hybrid system for application within different models and body types.


The handsome, mid-sized SUV from Lexus impresses with its practicality by offering 520 litres of boot capacity and generous rear passenger-space. On top of upmarket features like a full-length sunroof, its modern, digital-centric cabin is also a visual feast, and the car now comes with a cutting-edge (yet intuitive) electronic door opening system.


Above all, however, it's on the move where the SUV most impresses. As a full hybrid,
the 
NX 350h
 boasts an impressive fuel consumption figure of close to 20km/L, yet doesn't compromise on its power and drive. Its hybrid-assisted 2.5-litre engine produces 240bhp and 239Nm of torque, enabling it to finish the century sprint in just 7.7 seconds.
The Sgcarmart Media Team was present at the event to share their first-hand experience with the Lexus full hybrid models, and touched upon why this drivetrain set up is more compelling than ever today.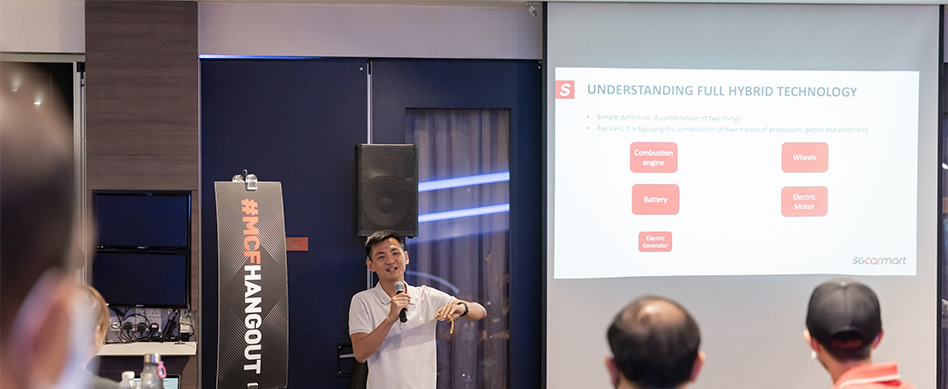 Deputy Editor Desmond Chan noted that one of the largest advantages of the Lexus full hybrid drive is that it does away with the need to hunt for charging stations. One can nevertheless still enjoy the benefits from the extra electric motor.

As a result of Lexus being a "pioneer in the luxury hybrid electric vehicle segment... what you get is a really refined hybrid powertrain, and its cars are among the most fuel efficient you can find," he added.


While acknowledging the many on-paper strengths of the Lexus NX 350h, Julian Kho,
General Manager, Media,
 also pointed out that it was the intangible, emotional experience he had that stuck with him the most.
"It's crucial that when you get a car, longevity must be part of the equation," he insisted, explaining that he was drawn to the SUV's all-new design language, generous suite of features, and unpretentious proposition as a refined premium car with a penchant for performance.


Julian also brought up the government's strengthening push now for "cleaner, greener vehicles" now, and stated his belief that hybrids like the NX 350h were a sensible choice before making the leap to full-electric vehicles.


Since Lexus is synonymous with unimpeachable build quality, participants were given a fascinating insight into the world of Takumi Craftsmanship at Lexus through a fun exercise.
As one of the prerequisites for reaching the status of a 'Lexus Takumi Master' (or artisan), one has to be able to fold an origami cat using only their non-dominant hand within 90 seconds. Although not at the stratosphere of Lexus Takumi Masters, MCF members nonetheless put their best efforts into the exercise, with the three fastest folders rewarded with Lexus shopping bags.

Finally, an exciting lucky draw capped off the event, with the grand prize of an exclusive Zero Halliburton for Lexus luggage worth over $750 going to one lucky member, and fuel vouchers going to two others.

Ultimately, everyone walked away a winner; all participants were handed a special goodie pack before heading off for the rest of their Saturday.


Keen to experience the fuel efficient yet exhilarating drive of a Lexus Full Hybrid? Click
here
to book a test drive at the Lexus Boutique now!