---
The DS 5 is the luxury brand's new flagship model, adding a dose of premium luxury to a model that retains its quirky, oddball character.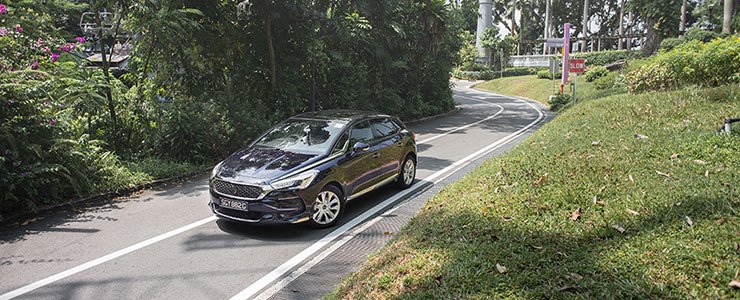 The DS marque was introduced in 2009 as a premium sub-brand for Citroen. In 2015, the Citroen name was dropped from the DS line of vehicles, and DS Automobiles now exists as a standalone luxury vehicle brand of Groupe PSA. It is to Citroen what Lexus is to Toyota or Infiniti is to Nissan.
The new DS 5, a facelifted version of the
Citroen DS5
, is the flagship model of the new DS brand, and embodies what the brand calls 'Spirit of Avant-Garde' - avant garde refers to new and experimental ideas and methods.
Up close and Personal
The most obvious change on the DS 5 is on the nose, where the Citroen badge has disappeared. In its place is the stylish DS badging, and the brand says this fascia will characterise its future models. The front also features DS LED vision directional head lights with sequential indicators, which adds to the upmarket feel.
Beyond that, the exterior remains largely similar to the pre-facelift model. The sleek, sloping roofline creates a distinct silhouette, stretching the car out over its generous 2,727mm wheelbase. This helps to create a visual sensation of motion, and certainly sets the car apart on the road.
On the inside, the monochromatic cabin has also been improved over its predecessor. There are notably fewer buttons (12 fewer, to be exact), which makes for a cleaner and more sophisticated looking cabin. The build quality and overall refinement has certainly improved as well.
However, the inherent quirkiness and oddness of the interior still remains. Stepping into the car for the first time, you would be forgiven for thinking that the starting point for the DS engineers (and the Citroen ones before) was to just flip everything on its head - left becomes right and up becomes down, so to speak.
The centre console has a Lamborghini vibe to it, and certainly evokes its aerospace influence. You would expect to find the engine start-stop button, and other driving-related controls there, but instead you will find the window controls. It certainly left us scratching our heads. The controls and general orientation in the interior will take some getting used to.
Another aspect we found odd was the three-piece cockpit glass roof. Rear visibility is also a tad poor, due to the sharply tapered roofline and the small rear windscreen.
In terms of technology, the Touchscreen Infotainment comes with MirrorLink and Apple CarPlay connectivity, but the interface certainly shows its age, prone to being rather unresponsive.
This model is no longer being sold by local distributors
Engine Type
:
4-cylinder in-line 16-valve
Horsepower
:
88kW (118 bhp) / 3500 rpm
Torque
:
300 Nm / 1750 rpm
Transmission
:
6-speed (A)
Acceleration (0-100 km/h)
:
12.9sec
Fuel consumption
:
24.4km/L