---
This is the Land Rover Range Rover Evoque Convertible, the world's first luxury compact SUV cabrio.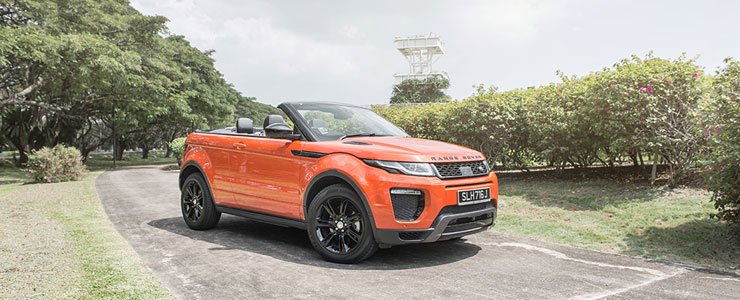 The
Range Rover Evoque
is one of our favourite Sport Utility Vehicles (SUV) ever, simply because it's drop-dead gorgeous. Yes, we're suckers for aesthetics.
Since its inception five years ago, the Evoque has become a halo model for the British luxury marque, bumping worldwide sales above and beyond expectations - pun unintended. Its compact dimensions and devilishly handsome design was pure magic.
Like many other manufacturers, Range Rover designers probably sat down and thought to themselves, how do we improve the Evoque's receipe? How do we make people like it more? Outdo the
Porsche Macan
by creating an SVR version of the car? Nah, how about removing her top?
And that's just what they did. It's aptly named the Evoque Convertible, the world's first luxury compact SUV cabrio.
Dividing opinions
Cabrio variants have worked for many cars, such as any model from BMW and also the
Jaguar F-Type
. But, when we first laid eyes on the Evoque Convertible however, we weren't quite sure what to make of it.
Have Range Rover's designers turned magic into tragic?
The Convertible's nowhere as sharp and seductive as a regular Evoque, even though Range Rover has tried to ensure the car's original adored shape isn't compromised. Like the
Golf GTI Cabriolet
, its design will, however, take some getting used to. With the top down, you'd even be hard-pressed to deny its similarity to a tiny hatch.
We did get numerous stares during our time with the vehicle but we're not quite sure if they were stares of compliment or contempt.
Life's better from the driver's seat
Thankfully, the Convertible's insides are easier to love. A nicely-laid out, modern and luxurious cabin remains, and the car now gets Jaguar Land Rover's new InControl Touch Pro infotainment system, which is faster, more responsive, highly intuitive and gorgeously rendered.
The front seats are spacious and comfortable with 12-way electric memory function, but the rear benches, on the other hand, are a tighter fit due to the 2+2 seating configuration, like a
Scirocco's
. For a cabrio, it's comfortable enough, though.
It does of course, have its faults. Rear visibility when the top's up is poor (a reverse camera comes standard to curb that problem), and there is a fair bit of wind and road noise making its way into the cabin, no thanks to its huge door mirrors.
This model is no longer being sold by local distributors
Engine Type
:
4-cylinder in-line 16-valve Turbocharged
Horsepower
:
177kW (237 bhp) / 5800 rpm
Torque
:
340 Nm / 1750 rpm
Transmission
:
9-speed (A)
Acceleration (0-100 km/h)
:
8.6sec
Fuel consumption
:
11.6km/L