The Volkswagen Golf GTI gets a facelift, inclusive of revised exterior designs, digitalised displays and more power from its 2.0-litre TSI engine.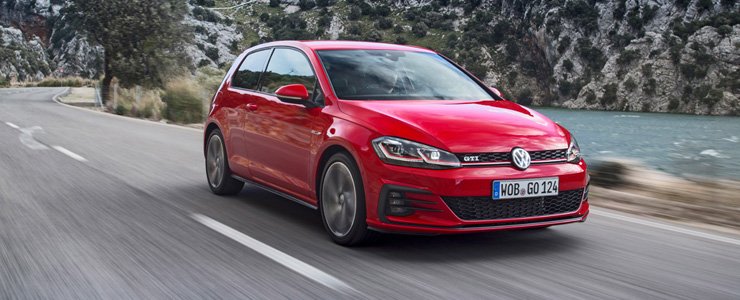 Volkswagen's
Golf GTI
is known as the sire of hot hatches since its introduction to the motoring world some
40 over years ago
.
The original fast German hatch was a car every boy racer dreamed of owning. But today, in a market that is shared by the
BMW M140i
, the
Ford Focus RS
and the
Honda Civic Type R
; inclusive of more hardcore versions of the GTI such as the
Clubsport
, the
Clubsport S
and the
Golf R
, the standard GTI has begun to sound quite… rudimentary, if you want one for pure driving pleasure.
However, the GTI, like its not-as-hot siblings, is given a nip-and-tuck for 2017; sans new engine. And, we think it's enough for it to be one of the best multifaceted hot hatches your money can buy today.
Same powertrain, more power
While the regular
petrol-powered Golfs
get a new turbocharged 1.5-litre TSI Evo engine, which replaces the 1.4-litre of old, the GTI gets a retune, bumping power by 10bhp from 217bhp previously.
The Wolfsburgian manufacturer also promises a new DSG gearbox for the GTI - a seven-geared unit that's similar to the
Volkswagen Golf 1.5 TSI Evo
that we drove is scheduled to replace the six-speeder. Unfortunately, during our time with the GTI in Majorca, the current wet-clutch gearbox was still married to the hot hatch. The 1.5 TSI Evo's creamy new autobox was nothing short of sublime so we're very excited to find out how this new DSG performs in a GTI, in time to come.
The car's 10bhp bump in power isn't very noticeable but the engine note is throatier and it's a tad punchier higher up the rev range. It's certainly no slouch, too, as we learnt during hard shoves on the right pedal, which causes the front tyres to scream for traction from dead start or corner exits. 0-100km/h sprint timing now takes 6.4 seconds, 0.1 seconds quicker than the outgoing model.
Like before, the car's ability to supply you with ample power at every calling of your right foot while providing you ample grip at the front makes the GTI a very easy and confident car to drive fast. And even though the GTI's firm suspension system isn't one that's suited for everyone, it's not hard enough to sabotage ride comfort.
Tech's das word
The most obvious updates take place inside. Like the regular Golf, the GTI sports the marque's latest Active Info Display and Discover Pro infotainment system. While such fancy schmancy bits of technology do make its cabin more premium, as we mentioned in our previous review, conventional control knobs work best for us. We also found the system's gesture control to be more ruse than of use.
You also get a ton of safety and semi-automous features on the GTI but we suspect having them or not isn't much of a concern for someone buying a hot hatch. Otherwise, the GTI's cabin is almost unchanged; material quality is high, and driving position is bang-on.
Outside, changes to the car are more modest; the GTI nerds should be able to spot them easily, though. For example, there are new 17-inch rims, revised front and rear bumpers, tweaked LED head lights and fancy LED tail lamps, which feature Audi-like dynamic indicators as standard.
Should I buy a GTI, then?
As far as hot hatches go, there are certainly more stimulating types. The GTI isn't the fastest nor the most advanced hot hatch out there, but balances being a driver's car and a comfortable, premium product.
If you're in the market for a properly sorted, 'go everywhere, do anything' performance hatch, the GTI continues to be one of the most satisfying to have.