The MINI One is the one to have for drivers who enjoy a spirited drive but the Volkswagen Golf continues to combine space, pace and grace like no other.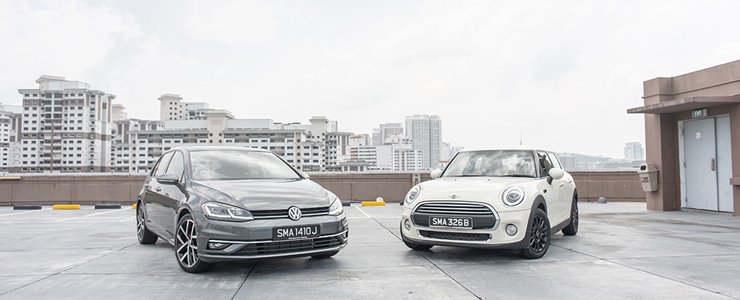 Despite having gone through a slick mid-cycle refresh, which has helped it become more sophisticated and more upmarket, the seventh generation
Volkswagen Golf
continues to face some pretty tough competition, both in terms of product and pricing.
And that's because MINI has also given its lineup an update for 2018, of which includes a nip and tuck of its entry-level
One
model.
At $112,088 (as of 22
nd
July 2018), the One is significantly more affordable than the $129,900 Golf. However, does that ultimately make it the better buy once you dive into details? We find out.
Prettier One, roomier Golf
While the One is arguably the prettier car here, hatches should primarily be workhorses, ready to pile as much as humanly possible into the smallest space available, and that's the order of the day here.
In that sense, the roomier Golf has the edge over its MINI rival. It is after all longer and wider, with a lengthier wheelbase.
The Golf's size advantage is evident from whichever seat in the house, while the lighter colours used for its A-pillars and headlining, as well as its panoramic sunroof accentuate its airier setting.
In the One, cramping adults in the rear over long distances can get a wee bit claustrophobic.
At the same time, the Golf's 380-litre boot allows for a couple more bags of groceries than the One's 278 litres, although the latter's can be expanded to 941 litres, if necessary, when its rear bench is folded.
Ergonomically speaking...
In terms of user-friendliness, the Golf, too, has a slight advantage. Its seats are cushier, there are more cubbyholes available, and layout of the dashboard as well as intuitiveness of the infotainment system, are a little more straightforward and easier to get used to.
Thanks to its fully-digital dash and larger, higher-resolution infotainment touchscreen display, it also feels more modern and more expensive-looking.
However, if you look and knock around closely, the One does feel a little sturdier, with several cabin panels that are more solid compared to some of the Golf's piano-black plastic bits.

What about how they drive?
Although it has a bigger capacity engine, the three-cylinder, 1.5-litre MINI One does have a power disadvantage. With 101 ponies and 190Nm of torque, it's a little slower from 0-100km/h than the four-cylinder, 1.4-litre Golf, which packs 123bhp and 200Nm of torque.
But what it lacks in figures, it makes up for with response. From the tap of its throttle to the way it steers, the One is a ton of fun. It's twitchier and tighter than the Golf, but that should come as no surprise considering the company's ethos.
That's not to say the Golf is a bad drive because it's anything but. While not as zippy as the One, it is every bit capable of tackling corners just as brilliantly, albeit a little more clinically.
There's admittedly less steering feel and more body roll in the Golf, but it's an extremely comfortable car to drive and be in.
It's more pliant, noticeable especially over our one-too-many pockmarked roads, and that's something that will really sit well with car buyers who prioritise ride quality.
The Golf is also a little more fuel efficient, averaging 16km/L over our two-day drive. The One doesn't trail far behind - having averaged 14km/L, which isn't shoddy by any means either.
More importantly, both cars' dual-clutch transmissions are equally silken and are prime examples of how transmissions should behave - quick and smooth.
So when it comes down to it...
If we were deciding based purely on sheer driving pleasure, we'd pick the One in a heartbeat. It's a car that will keep you smiling, whether you're stuck in a jam or carving some Malaysian backroad twisties.
But for most buyers looking at hatchbacks, we suspect that might not be a priority. Instead, the combination of space, pace and grace would be the prerogative.
And on that note, the Golf certainly fares better in all three aspects. The only drawback is the $17,000 premium it commands over the One.

Engine Type
:
3-cylinder in-line 12-valve TwinPower Turbocharged
Horsepower
:
75kW (101 bhp) / 6500 rpm
Torque
:
190 Nm / 3600 rpm
Transmission
:
7-speed (A) DCT
Acceleration (0-100 km/h)
:
10.5sec
Fuel consumption
:
18.5 km/L


Engine Type
:
4-cylinder 16-valve TSI Turbocharged
Horsepower
:
92kW (123 bhp) / 6000 rpm
Torque
:
200 Nm / 4000 rpm
Transmission
:
7-speed (A) DSG
Acceleration (0-100 km/h)
:
9.1sec
Fuel consumption
:
18.18 km/L