---
The all new Mazda3 Hatchback impresses with its sleek sheet metal, premium cabin and a new mild hybrid engine.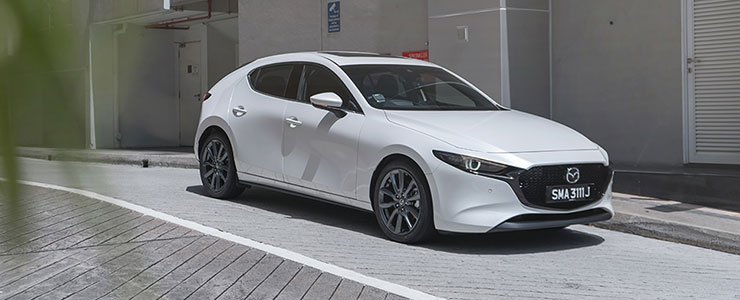 The
Sedan variant
may be Singaporeans' favourite, but our weapon of choice for the Mazda3 is certainly the sportier-looking hatchback (Astina variant) that you see here, even if it costs $8,000 (as of 24 July 2019) more than its twin.
It's genuinely hard to fault the all new Mazda3 Hatchback. From its sleek exterior styling and premium cabin touches to its handling and driving refinement, the new Mazda hatch impresses on all fronts.
Against all odds
Visually, Mazda is into simplicity. No bold lines or exaggerated curves can be seen on the car. What you get, instead, is a sheet metal that is crisp and clean, with a pair of slim headlamps that integrates seamlessly with an eye-catching massive grille.
Just as simple but no less impressive is the car's redesigned cabin. In here, the Japanese carmaker has paid extra attention to reduce what it calls 'visual noise'. The end result is an interior that's so subtle and sophisticated that it feels like a car that costs a couple of price brackets above it.
Thanks to the repositioning of the cup holders and the new rotary knob that controls the functions of the new 8.8-inch infotainment system with a satisfying click, the cabin is anything but cluttered.
More relevantly, everything here feels well put together. Operation of switchgears, together with high-quality leather that wraps around soft-touch rubber and plastics, make this Mazda3 Hatchback a clear winner amongst its peers and a strong contender against the
Audi A3 Sportback
and the
Mercedes-Benz A-Class
- cars that are well above its class.
Thus, at $114,688, you will not be feeling shortchanged. Yes, it's not the kind of breakthrough that will make the headlines, but it's the sort of evolution that will make you appreciate how Mazda is progressing towards a more premium image.
Wind of change
Styling isn't the only thing that the Mazda3 has perfected. While the new hatch produces the same performance figures as its
predecessor
- 118bhp and 153Nm of torque - the new model manages to dish out a higher level of refinement on the go.
This said refinement has a lot to do with the fact that Mazda has placed special attention to its cabin insulation by having thicker panels and glass windows. Also helping in this aspect is the new 24V mild hybrid system that comes with the 1.5-litre powerplant.
Admittedly, the mild hybrid system will not be used to assist driving, but like most mild hybrid systems, it'll help power on-board components as well as lower its fuel consumption. In this case, it also ensures smoother engine start/stop which, during our time with the car, proved to be unobtrusive.
Throughout this time, we managed 12.8km/L - relatively far from the 18.1km/L its spec sheet promises - but still nevertheless decent.
Decent is an understatement
There's really little to dislike about the Mazda3 Hatchback that we tested. It's smooth, quiet, and refined - the sort of characteristics you'd only associate with luxury models.
To top it off, this Astina variant test car comes with high levels of safety features. These include a 360-degree reverse camera, lane departure warning system, front cross traffic alert, blind spot monitoring system, and cruising and traffic support (helps reduce driver fatigue by controlling vehicle speed to keep a suitable distance from the car in front), just to name a few.
Hence, if you're in the market for a hatchback that's good-looking, drives competently and is well-equipped, the Mazda3 is one that's hard to overlook.
Need a better look at that sleek new styling, or the gorgeous interior? We might have just the thing in this video review!

Engine Type
:
4-cylinder in-line 16-valve DOHC SKYACTIV-G
Horsepower
:
88kW (118 bhp) / 6000 rpm
Torque
:
153 Nm / 4000 rpm
Transmission
:
6-speed (A)
Acceleration (0-100 km/h)
:
12.1sec
Fuel consumption
:
18.1 km/L