---
The LS is one luxury sedan that deserves to be the flagship model of all Japanese cars.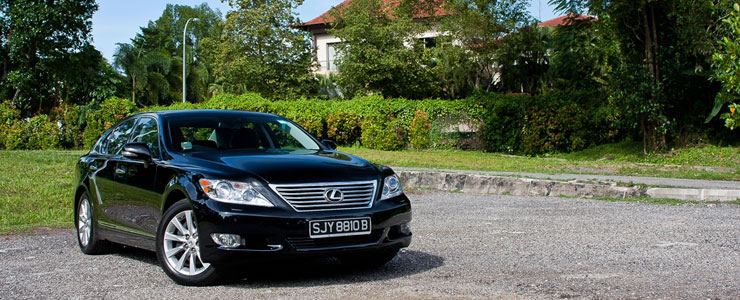 The LS400 was first introduced as Lexus full-size luxury sedan in 1989, serving as the flagship model of the premium Japanese marque. But it was only in 2007 when the fourth-generation LS was produced in both standard and long-wheelbase (LWB) versions - an element that's similar to its luxury German competitors.
Utilising a new platform, the LS460 was the first luxury sedan by Lexus that saw an eight-speed automatic transmission and an automatic parking system. But for some reason, the Japanese marque somehow trails behind its German rivals such as the Mercedes-Benz S-Class, Audi A8, and BMW 7-Series.
Is it because of its uninvolving driving experience or simply because we, Singaporeans, are too brand-conscious to consider a Japanese brand?
When it comes to flagship models, we reckon that it's of utmost importance that they look and feel the part. The LS460 sure does succeed in this area, but it is undeniable that its German contenders are visually more distinctive.
Here's why.
Exterior
There's simply no arguing that the IS-series and F models are the sportiest and most arrogant of the lot. The other models seem to have an appeal for the older generation who has "been there, done that" and the LS460 is no exception.
Up front, it appears different from the rest of its siblings. The car is certainly handsome but there is a lack of visual excitement which makes you wonder if Lexus designers had something up their sleeves when they did the sketch.
The good thing is that the car's smooth sheet metal and soft edges refrain it from being totally boring. But, unlike the A8, it remains a tad too conservative which makes it difficult to overpower the Germans in terms of its fascia.
It gets slightly better round the back with an overall solid and well-proportioned stance. The attempt to make the car look more aggressive does work well too, with the striking BMW look-alike LED tail lamps and LS460's tailpipes integrated into the rear valance.
With its featureless shell, the luxury sedan may be unremarkable when compared to other luxury brands. However, we reckon Lexus designers were aiming for a simple yet contemporary styling with the attention to fit and finish remaining as their top priority.
This model is no longer being sold by local distributors
Engine Type
:
V8 Dual VVT-i
Horsepower
:
283kW (380 bhp)
Transmission
:
8-speed (A)
Acceleration (0-100 km/h)
:
5.7sec
Fuel consumption
:
9.4km/L