---
Stodgy Japanese sedans are a thing of the past and these three cars are here to tell you exactly why.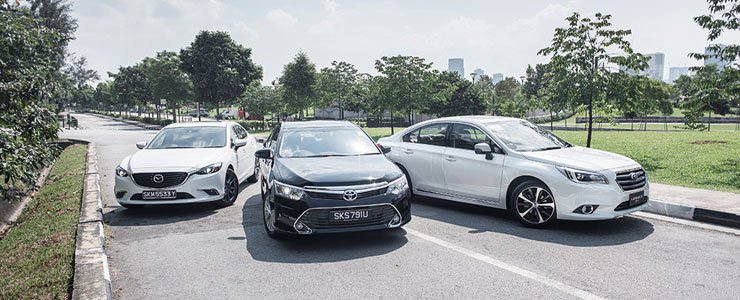 If you're reading this, chances are that you grew up knowing a relative or family friend who owned a
Mazda6
,
Subaru Legacy
or
Toyota Camry
. For years, these family sedans have faithfully ferried children to school, wives to work and sons off for National Service.
Being reliable, practical and relatively economical are some of the many facets that helped carve these household names in the automotive hall of fame.
The Japanese adage,
Kaizen
, which means 'continuous improvement' is apparent in the latest iterations of these cars. Apart from the injection of a little panache, they now come with a host of technological enhancements coupled with more desirable cabin designs as compared to their predecessors.
Exterior
Excelling in aesthetics has always been one of Mazda's strong points and this facelifted third generation 6 owes its good looks to Mazda's 'KODO: Soul Of Motion'
design direction, a notion aimed at

creating cars that communicate with drivers on an emotional level.
Its f
lexuous
design puts it right beside the new Subaru Legacy and facelifted Toyota Camry with regards to styling. Although the latter two have more drastic changes to their facades compared to the previous generations, the Mazda6 puts up a good fight with its sleekness.
Subaru has obviously done a bit of growing up and has taken the designs of its cars down a more matured path. Although boy racers may find the company's aesthetic decisions of late slightly less sporty, we find that this sixth generation Legacy bears a good mix of executive sophistication and modern sportiness.
Also receiving a facelift is the Toyota Camry. This XV50 variant comes with a more stylish front and rear end. The Camry's overall fascia looks a whole lot more youthful than the rounder designs of previous generations - a much needed rejuvenation for the brand.
30 Mar 2017
The new Mazda6 undergoes a subtle update to its driving dynamics, safety features and styling while retaining most of its well-loved traits.
Read more
This model is no longer being sold by local distributors
Engine Type
:
4-cylinder in-line 16-valve DOHC SkyActiv-G
Horsepower
:
141kW (189 bhp) / 5700 rpm
Torque
:
256 Nm / 3250 rpm
Transmission
:
6-speed (A) SKYACTIV-DRIVE
Acceleration (0-100 km/h)
:
8.2sec
Fuel consumption
:
15.4km/L
This model is no longer being sold by local distributors
Engine Type
:
4-cylinder 16-valve DOHC Boxer
Horsepower
:
129kW (173 bhp) / 5800 rpm
Torque
:
235 Nm / 4000 rpm
Transmission
:
Lineartronic CVT (A)
Acceleration (0-100 km/h)
:
9.6sec
Fuel consumption
:
13km/L
This model is no longer being sold by local distributors
Engine Type
:
4-cylinder in-line 16-valve DOHC Dual VVT-i
Horsepower
:
133kW (178 bhp) / 6000 rpm
Torque
:
231 Nm / 4100 rpm
Transmission
:
6-speed (A) Super ECT
Acceleration (0-100 km/h)
:
9.2sec
Fuel consumption
:
12.9km/L