---
Looking for the lowest petrol prices before heading to the pumps? We track the prices offered by the various petrol stations here!
Whether you're filling up with petrol or diesel, sgCarMart keeps track of the prices being offered across all petrol companies - Shell, Esso, Caltex, Sinopec and SPC - right here so you always know which petrol station to head to when filling up your tank.
Bookmark and check back at this page or keep track of petrol prices
here
before heading out to the pumps, and you could save yourself some spare cash!
All prices displayed below are before site and credit card discounts, and the cheapest per-litre price for each fuel is highlighted in red.
*Last updated on 27 September 2022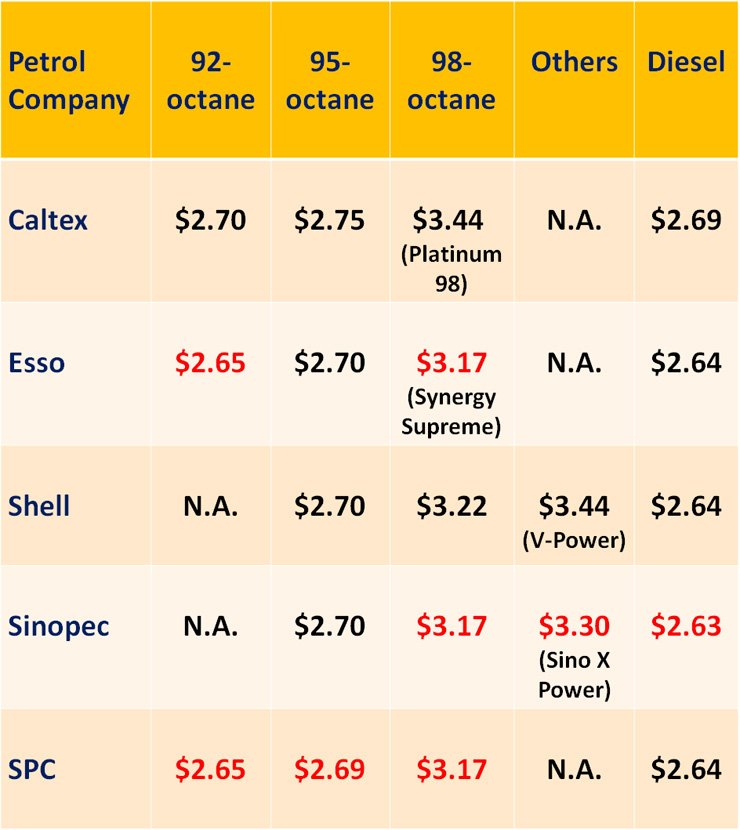 Credit card discounts

For added convenience, we have also looked at all the petrol stations and credit cards and prepared this guide on the best credit card discounts for each petrol station:
Credit_Card_Info
Compare the best petrol discount cards and save up to 25% on your petrol bills!
Apply now
!
Here are some related articles that might interest you
2020 guide to the best petrol discount credit cards
7 ways to reduce running costs
Can you actually save money buying a hybrid car?
Must-know tips for cheaper car maintenance
Neglecting these things in your car will cost you a fortune 
Related Categories
Recommended Merchants(View all)