The Bentley Flying Spur V8 S is a deeply accomplished mechanical tool wrapped in glorious layers of luxurious comfort.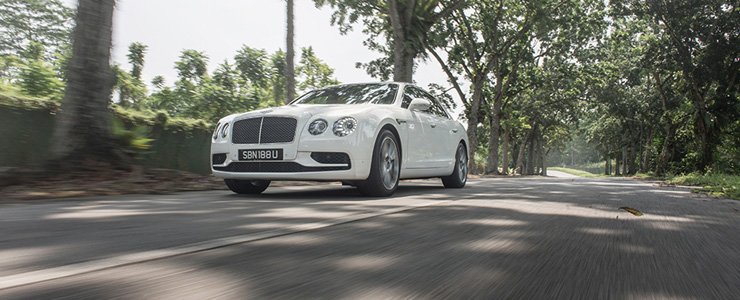 Imagine a hammer. A big, heavy hammer, capable of smashing a human skull into pieces. Now imagine that hammer is wrapped in smooth, glistening and luxurious velvet. That, in a nutshell, is the Bentley Flying Spur V8 S.

What the hell?

Velvet - 'a closely woven fabric of silk, cotton, or nylon that has a thick short pile on one side' (per Google).

Yes, I know what velvet is. What's that got to do with this car?

The first thing that comes to mind with a Bentley is luxury, and velvet is perhaps the definitive luxury fabric. It's soft to the touch, beautiful, and obviously premium.


The Flying Spur is much the same. The sleek white exterior of our car features a beautiful handpainted red line that runs across the shoulder, amplifying its muscular stature. And with the blacked-out radiator grille, rear diffuser and a unique grille insert, the V8 S' more sporty intentions are clear.

Luxury is also all about the little details, and this Flying Spur has those in abundance. There are piano-black wood veneers, a knurled gear lever and gear shift paddles, as well as a Breitling timepiece in the centre console.
Admittedly, the driving position isn't immediately ergonomically familiar, especially if you are keen of using the paddle shifters. They sit fairly high up the steering column, and takes some getting used to.
And the hammer?
Underneath all that shiny luxurious sheen lays a monstrously capable tool - headlined by a 4.0-litre twin-turbo V8 engine that has been tuned for more power, now delivering 521bhp and 680Nm of torque.
The Flying Spur is capable of impressive straight-line speed once you overcome the initial turbo lag. 0-100km/h takes just 4.9 seconds, which is frankly ridiculous for a car weighing in at close to two and a half tonnes.
This model is no longer being sold by local distributors
Engine Type
:
V8 Twin-Turbocharged
Horsepower
:
389kW (521 bhp) / 6000 rpm
Torque
:
680 Nm / 1700 rpm
Transmission
:
8-Speed (A) ZF
Acceleration (0-100 km/h)
:
4.9sec
Fuel consumption
:
9.1 km/L