The eighth generation Toyota Camry is a curvy-looking and comfortable-driving mid-size sedan that will easily stand out amongst its competitors.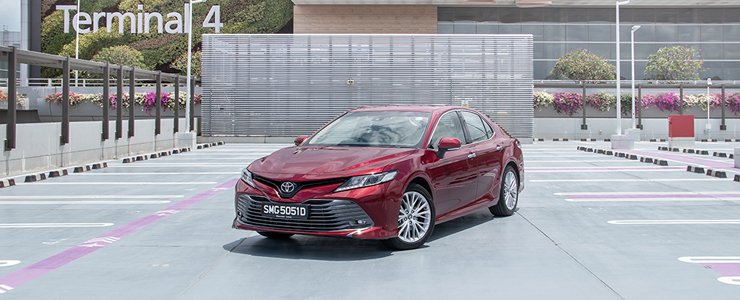 This could well be the first Camry I do not hate driving.
First launched at this year's
Singapore Motor Show
, the eighth iteration Toyota Camry that you see here goes head to head with similarly-sized cars like the
Honda Accord
, the
Mazda6 Sedan
and the
Volkswagen Passat
.
But unlike its peers, the new Camry possesses a curvy-looking sheet metal that will enable the mid-size sedan to differentiate itself from its competitors effortlessly.
Looks that will last a good 10 years
Its prominently curved front grille that incorporates its foglamps, futuristic headlamps and slim taillights all add up to form a very fresh and edgy look - a huge departure from Camrys of the past.
It is, thus, not difficult to recognise the new Toyota. It having grown in dimensions has also contributed to the fact that the car's on-road presence has increased.
The appealing nature of the car continues in its cabin. Everything here looks and feels more expensive than its stated price of $152,988 (as of 22 February 2019).
For starters, run your fingers through different parts of the cabin and you'll hardly come into contact with anything sharp or rough. Additionally, it comes with a generously-sized modern-looking touchscreen that's nicely wrapped within the design of the centre console.
Space and features that will satisfy all
Also generously-sized is the copius amounts of head and legroom. Thanks to the Camry's new global architectural platform that's also found in the spacious and splendid
Lexus ES
, three tall adults will easily fit at the back - including the passenger occupying the centre seat.
That is one of the advantages of front-wheel driven cars, where the 'hump' from the transmission tunnel doesn't take up leg space in the centre.
The Camry is equally big on features, too. Our 2.5-litre variant comes with a electric seats with memory function, rear windscreen with sunshade, factory-fitted reverse camera (versus locally fitted on the 2.0-litre variant) and hill start assist.
It is also equipped with a standard host of safety features such as pre-collision system, dynamic radar cruise control as well as lane departure alert with steering assistant.
A drive that will put a smile on your face
The Toyota Camry has always been a compelling sedan that had a reputation for its comfortable ride and this new generation model continues that trait and then some.
On the go, the car is notably more refined than its predecessor, thanks to the well-mannered eight-speed automatic transmission (previously six-speed) that's effectively married to the 2.5-litre unit.
The car is also well-insulated against noise, vibrations and harshness. At highway speeds, wind and engine noises are kept to a minimum while humps and broken tarmac are soaked up gently.
Toyota has somehow succeeded in delivering a well-controlled ride with a tight handling with the new Camry - something that was never present in previous models.
A car that should be on your list
The Camry's intended mission of reaching out to a broad band of buyers with its comfort disposition has never fail and it's not about to with this new model.
While it's not a thrilling car, which it was never meant to be in the first place, it sure is a comfortable, refined and nicely appointed one that will prove to be competent to many drivers who just want to get from point to point in a fuss-free manner.
Perhaps the only quibble I have with the car over my three-day test drive is that all the other doors remain locked when the driver's door is opened. It's a rather troublesome affair when you have bags to take out or a baby to see to after you've parked.
But still, there's no doubt this could well be the first Camry I do not hate driving.

Engine Type
:
4-cylinder in-line 16-valve
Horsepower
:
154kW (207 bhp) / 6600 rpm
Torque
:
250 Nm / 5000 rpm
Transmission
:
8-speed (A)
Acceleration (0-100 km/h)
:
-
Fuel consumption
:
15.3 km/L