---
Audi has given its quintessential two-door coupe a facelift while retaining its good looks and driving qualities we have all come to know and love.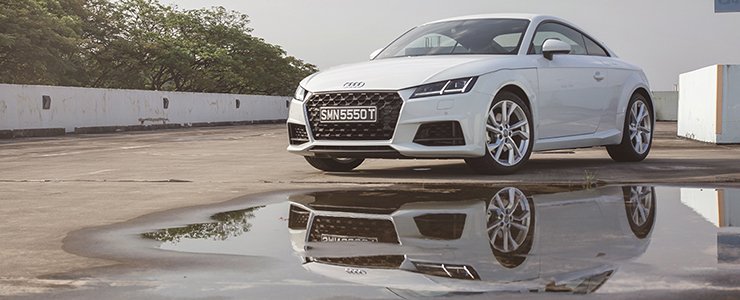 For all intents and purposes, this third generation
Audi TT
has been around on our shores for about four years now.
Yet, the Audi TT doesn't feel older or out of place amongst newer cars today.
A little touching up
As the saying goes, "if it ain't broke, don't fix it". So, for this facelift, Audi didn't make tremendous changes to the design icon. You'll need a keen eye to spot them.
Outside, changes are mainly related to the bumpers. The TT looks angrier, with larger, more angular air intakes. The singleframe grille is wider and flatter, with a honeycomb-like design.
Step inside the TT for the first time and you'll probably find its driver-focussed cockpit to be rather futuristic - and that's despite the fact that it is still the same one when it was first launched four years ago.
It is still an impressive feat when it comes to interior designs. There isn't an infotainment screen taking centre stage in the dash. Instead, all functions - instrument displays, navigation and car settings - are controlled via the 12.3-inch Virtual Cockpit that sits directly in front of the driver. The minimalist air-conditioning controls is also something that remains unique to the Audi TT.
Bigger engine, still front-wheel drive
Being inside the TT is a joyful affair, primarily because of one thing - this car is great fun to drive. 
The facelift now sports a bigger 2.0-litre turbocharged engine that makes 227bhp and 370Nm of torque, which is more than adequate considering the TT weighs just 1,285kg.
This is paired to a six-speed dual-clutch automatic transmission, sending power to the front wheels.
The Audi TT is very brisk. During our three-day test drive, there wasn't a situation where we felt that we needed more power, or the need for a four-wheel drive system.
While it does have exhaust flaps to offer a more sonorous soundtrack, it isn't as chaotic as some cars of today that deliver loud pops and bangs designed to bring out the inner child.
Thus, it comes across as a car that's more grown-up and matured. While audible, it's an exhaust note just for the driver to enjoy, rather than an attention-seeking one.
More importantly, it does all of this in a completely fuss-free manner. The TT is a car that you can drive fast in the real world, without the afterthought of actually killing yourself once you complete that corner.
Should I buy one?
When it comes to your money, the Audi TT costs $227,400 (as of 25 October 2019). It may seem steep, but you should note that its rivals, such as the
Alpine A110
and the
Porsche Cayman
, have a much higher price tag. In fact, both cars are more expensive compared to the TT, and that is before the inclusion of COE.
Considering its price point, the Audi TT is one car that offers pretty good looks and a surprisingly nimble and fun drive, something many coupes and sports cars could learn a thing or two from. 
And, we suspect that just as this Audi TT looks good as it did four years ago, it'll continue to look fresher than its competitors as the years go by.

Engine Type
:
4-cylinder in-line 16-valve Turbocharged
Horsepower
:
169kW (227 bhp) / 6200 rpm
Torque
:
370 Nm / 4300 rpm
Transmission
:
6-speed (A) S tronic
Acceleration (0-100 km/h)
:
5.9sec
Fuel consumption
:
15.2 km/L