---
Driving a car can be dangerous, especially if you're speeding. But driving a Volvo V70 T6 is a whole different ball game. With the safety nannies around, it's hard to break the rules. But is its prime job - To protect drivers and their families.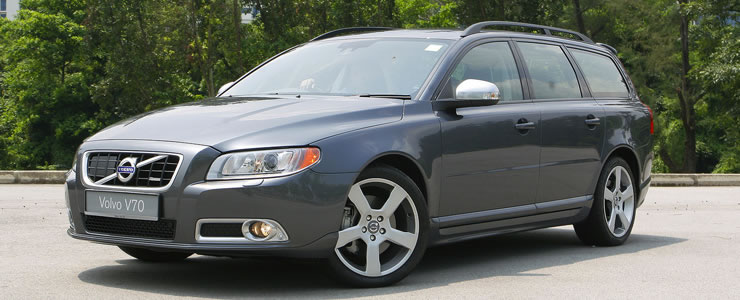 A car shaped like this may not be pleasant to a lot. And as I walked round the car with a little negativity hindering my professional point of view, someone from behind posed me a question.
"So, how's the hearse?" was one I didn't quite know how to answer.
Ignore him I did. Especially for a family-oriented person like me, it's a fine looking car. The facelifted front end, with the silver metallic paint makes it look mean. Some people have mentioned that the wheels look a bit small, but again, water off a duck's back. And speaking of water, in duck-friendly weather, the All-Wheel-Drive (AWD) grip is appreciated. When you're really on it, the Dynamic Stability and Traction Control (DSTC) reduces the engine's power output, to maintain a neutral stance.
So off I went, driving in the rain, dominating the highway.
This is one of the best and also the most powerful engine available at Volvo at this point in time and whatever hair I have on my back is still standing. For real. I feel like I have just finished a 200-metre sprint race and there is a rush of blood to my head. In this state, I believe I am permitted to some journalistic liberty, so please kindly indulge me.
Exterior
I guess it's another 'well-done-son' pat on the back for the automotive designers.
Volvo has continued to prioritise practicality while incorporating luxurious touches that would not look out of place in the Volvo V70. The car has a decidedly sporty styling with convincing dynamics to provide go with the show, thanks to the creative minds at Volvo.
Despite the sportier outlook of this facelifted model, heads will not turn. But the massive headlights blending beautifully into the sweeping bonnet with black egg crates featuring chrome bars and stylish foglamps will remind you this is more than just another family car. The climbing waistline of the side also contributes to the forward leaning, dynamic stance, which is further reinforced with the assistance of the black pillars between the side windows.
Things just get bolder as you go round the back. Unlike the older models, the Volvo lettering has been spaced further apart, allowing it to spread across the back of this luxury estate car, as if making a bold statement for back drivers to see. With a spoiler impeccably added to the back together with two exhaust tailpipes and sports pedals, it completes the V70 with the sporty stance.
This model is no longer being sold by local distributors
Engine Type
:
6-cylinders in-line Turbocharged
Horsepower
:
213kW (285 bhp)
Transmission
:
6-speed (A)
Acceleration (0-100 km/h)
:
7.2sec
Fuel consumption
:
8.6km/L