---
It's hard to fault Toyota primarily because when you have sold over 37 million of something, you don't change the recipe, you just tweak it and make it even better.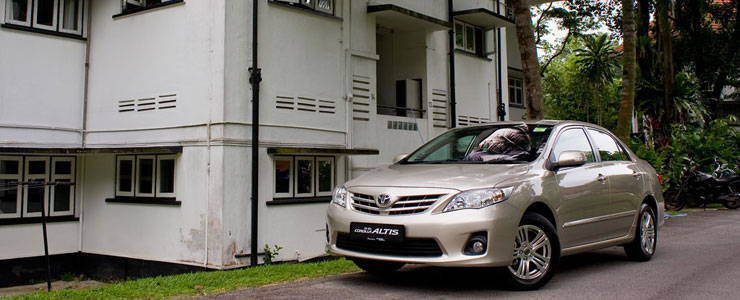 That is exactly what Toyota has done. With more than 37 million units sold worldwide since its first introduction 44 years ago, Toyota has improved the Corolla Altis comprehensively and the latest one is no different.
It's not tough to notice that this growing lad is a popular car in Singapore. With Toyota's well-known strength for its spaciousness and dependability, families are more than happy to take a second glance at this sensible four-door sedan.
In all honesty, the refinement and reliability of the brand are the main reasons why we had to review the Corolla Altis without any delay. Although very minor changes have been done, the car looks amazing, inspired by its elder and much more expensive sibling, the Camry.
But can our progressive contender live past the shadows of the Camry this time round?
Exterior
When you look at the latest generation of the Corolla Altis launched just recently in Singapore, you'd really begin to wonder what exactly has changed over the previous model except for the Altis post mortem - some liposuction here and some botox there.
The 'new' Corolla Altis has a similar silhouette as the old Corolla and viewed from behind a casual eye may even mistake it for the older model.
But a closer look will tell a different story. The rear fog lamps are now rectangular in shape while tail lights are completed with LED bulbs and a middle section with clear lenses. Up front, changes are similarly minor but distinctive.
Apart from the wider front grille, sharp-looking bulging headlamps have been slightly elongated, making the front fascia look akin to the bigger Camry. However, nothing much has changed on the Altis's side profile as side repeaters are still featured on its wing mirrors.
As a result, the profile is now wider as well as lower resulting in greater stability and confident stance. Distinctive character lines with delicate sweeping curves and rounded edges further enhance the impression of breadth especially from the rear.
While these changes may not be significant, they certainly give the well-grown car a more elegant feel, along with its subtle hints of greater stability and confident outlook.
This model is no longer being sold by local distributors
Engine Type
:
4-cylinders in-line 16-valves DOHC VVT-i
Horsepower
:
90kW (121 bhp)
Transmission
:
4-speed (A)
Acceleration (0-100 km/h)
:
-
Fuel consumption
:
14.5km/L