Singapore's public transport network is set to go completely cashless by 2020. Here's what you need to know in a nutshell and why you should care.

The story:
The Land Transport Authority (LTA) has announced that the public transport network will
go fully cashless by 2020
, with all bus and train rides to be paid using travel cards. Card top-ups will also have to be performed without using physical cash.
Key facts you must know:
1. All bus and train rides, as well as travel card top-ups, will be completely cashless by 2020.
2. The first fully cashless rail line will be the
Thomson-East Coast Line
, which will open from 2019.
3. Starting from 1
st
September, cash top-up functions at passenger service stations will be removed at 11 MRT stations.
4. By 2020, all self-service ticketing machines at MRT stations and bus interchanges will only accept cashless top-ups. But commuters can still use cash to top-up their cards at convenience stores, ATM machines and TransitLink ticket offices.
Why you should care:
1. Right now, most people still perform top-ups using cash. You will need to start getting used to cashless top-ups and taking note of places where you can do so.
2. In the case you have insufficient value in your EZ-link card or if you forget to bring it out, you will no longer have an option to use cash at General Ticketing machines or to pay for your bus rides.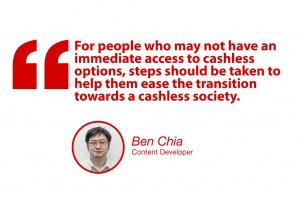 What you should do:


Banks such as DBS/POSB and OCBC allow you to use your ATM or credit card as an EZ-Link card, and have an auto top-up function. LTA has a
scheme with Mastercard
to provide the same function for its cardholders, so do check if you are able to use these alternatives.
Start informing and educating family members on how to work with the cashless system in order to minimise inconvenience.
Editorial reaction:
Going cashless is a necessary step if Singapore is to move forward to become a Smart Nation. In the long run, most transactions, not just public transport, will be performed via cashless means such as through cards, smartphones or smart watches.
However, there will be a small group of commuters such as the older generation and children who may not understand and may not have access to cashless payment options respectively. Steps should be taken to ease their transition towards a cashless society.
Related Categories
Recommended Merchants(View all)