Starting 26 November, new digital services will be available on the One.Motoring website. Here's what you need to know in a nutshell and why you should care.
The Story:
Starting from today, new digital services are available on the
newly revamped
One.Motoring website
.
Key facts you must know:
The One.Motoring website has been revamped to offer additional digital services, meant to facilitate and ease the process of car buying and selling.
Starting today, v

ehicle owners will be able to use SingPass or CorpPass two-factor (2FA) authentication for four new digital services on the website.

The LTA is also replacing hard copy letters, except for summonses, with e-notifications via SMS and e-letters sent to users' One.Motoring accounts.
Why you should care:
With the new One.Motoring digital services, the transfer of ownership during the car buying/selling process is now made easier. For Singaporean citizens and PRs with SingPass, they can now use SingPass to conduct car transfer transactions. SingPass will replace the M01 form and TPIN. The buyer and seller is able to carry out the transaction online, and no longer require to go down to LTA Service Centres to complete the transaction. You will also be able to keep track of the status of the transaction via the One.Motoring dashboard.
These digital services require the use of your SingPass. If you do not already have a SingPass, please head down to a SingPass (https://www.singpass.gov.sg/singpass/common/counter) or LTA counter do get one made. If you have forgotten your password, you can reset your password online (https://www.singpass.gov.sg/singpass/onlineresetpassword/userdetail) or at a Singpass counter.

However, for individuals without a SingPass, such as foreigners, the existing procedures and paperwork still remain.

This is part of the continued process by the LTA to further digitise its services. The LTA has

introduced more digital kiosks at its Sin Ming office's e-lobby, and will also move towards an appointment-based system for counter services by 2020.
What you can do:


If you are about to conduct a vehicle transaction, ensure that both parties have ready access to your respective SingPass. When selling a car, whether to a direct buyer or dealer, you will require his or her name, NRIC and mobile number, all as reflected in the buyer's SingPass or CorpPass account. This is because the transaction will require both parties verification via the SingPass/CorpPass two-factor authentification (2FA).
In the mean time, you should also head to the revamped One.Motoring to familiarise yourself with the new dashboard, as well as to better understand the new digital services available.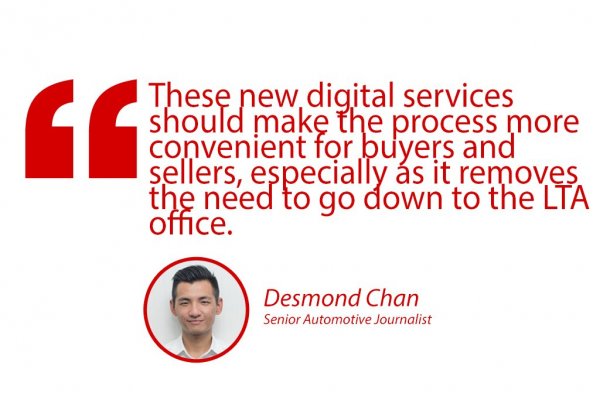 Editorial Reaction


The new digital services offer buyers and sellers increased convenience, reducing the hassle of having to head down to LTA to apply for a TPIN. This is a big boon especially for direct buyers and sellers, as this means that the transaction can be conducted at any location that is convenient for both parties.
Additionally, this also helps the LTA to reduce the necessary paperwork. This digitalisation of services should come as no surprise as more and more service providers are going paperless. The increased digitisation of services should also go some way to reducing the waiting time and crowds at LTA's Sin Ming office.
Related Categories
Recommended Merchants(View all)