RUN-FLAT
TECHNOLOGY
TYRES MYTHS
BUSTED
While run-flat technology tyres have been around for several decades, most still do not know much about this impressive technology. Let's bust some myths surrounding these tyres and find out more about them.
Text | Goh Zhi Xuan
Photos: Bridgestone, Low Fai Ming

21 May 2019
Run-flat technology tyre is a technology that, as its name suggests, allow you to keep on driving with flat tyres. No, these are not some futuristic tyres that don't need any air in them to function normally. Rather, they are specially designed tyres that allow you to continue driving temporarily (up to a maximum distance of 80km at a maximum speed of 80km/h) for you to get to a safer location or a tyre shop to replace or repair the punctured tyre.

Many of us have heard of this technology, some of us might have even been disregarding these tyres due to others' purported negative experiences. Let's find out if these myths floating online hold any weight, and whether run-flat tyres are the correct choice for you.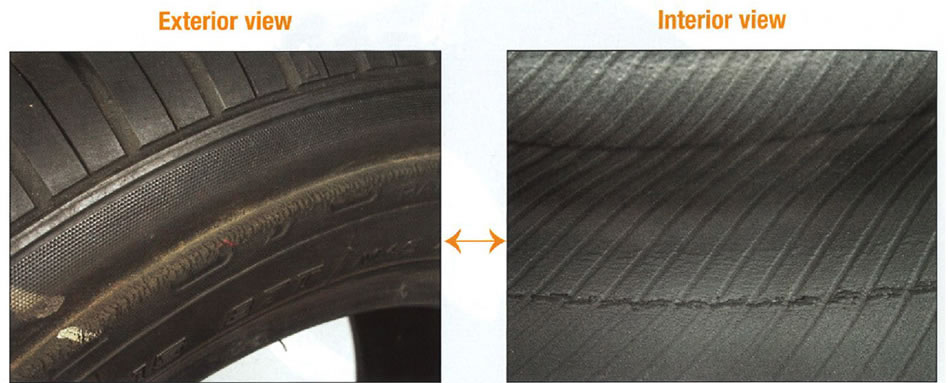 1. Myth: Singapore is small. Thus, after experiencing a puncture, normal tyres can hold up for the short distance to tyre shops.

Normal tyres without run-flat technology will not hold up for much distance before all the air escapes, resulting in a deflated tyre. Once a conventional tyre loses all its inflation pressure, it will be destroyed and you will not be able to continue driving. Driving on a punctured conventional tyre is not only dangerous, you might also damage your rims and tyre.
2. Myth: All run-flat tyres are expensive

While you might get the impression that run-flat technology tyres are expensive as they are usually found on luxury cars, not all run-flat technology tyres are much costlier than conventional ones. Bridgestone's DriveGuard line of tyres are run-flat technology tyres that are offered at affordable prices which are comparable to conventional tyres of the same sizes.
3. Myth: Run-flat technology tyres cannot be repaired after it has been punctured
Most run-flat technology tyres should not be repaired after it has been driven extensively while deflated. If you are intending to repair your punctured Bridgestone DriveGuard tyres, you should visit any of the
authorised Bridgestone dealers
to check on the tyre's condition to decide if it is safe to be repaired.
4. Myth: Run-flat technology tyres are only available in large sizes such as 17 to 20 inches.

In the past, run-flat technology tyres are more commonly found as original equipment on luxury cars. This may portray an image that such tyres are available exclusively in large sizes. However, that is not the case. Bridgestone's DriveGuard run-flat technology tyres are available in sizes from 15-inch to 20-inch, which will fit most cars on the road.
5. Myth: Run-flat technology tyres are much heavier than normal tyres, and will worsen your fuel economy substantially

Due to the stronger sidewall construction of run-flat technology tyres, they tend to be heavier than conventional tyres. However, run-flat tyres eliminate the need to lug a spare tyre around, this results in a weight reduction. Hence, by using run-flat tyres, there really isn't any weight penalty substantial enough to make a difference.
6. Myth: Cars that did not come with run-flat technology tyres cannot use them.

Certain run-flat technology tyres require special rims that are able to lock the bead of the tyres. Bridgestone DriveGuard run-flat technology tyres can be mounted on any car as long as it has a tyre pressure monitoring system (this is so that the driver is aware when the tyre is punctured). Tyre pressure monitoring systems are readily available from tyre shops, accessories workshop and various ecommerce platforms at affordable prices.
Test Conditions: Normal tyre (POTENZA S001): 245/40 R18 97Y XL, Traditional Run-Flat tyre (POTENZA RE050 RFT): 245/40 RF18 93W, 3rd generation Run-Flat tyre (DriveGuard): 245/40 RF18 93W. Test load: 4.71kN, Air pressure: 240kPa. Testing method: Static Load Characteristics Testing. Testsite: Facilities located at Bridgestone Technical Centre.
7. Myth: Run-flat tyres causes uncomfortable and harsh rides

Run-flat technology has been perpetually evolving over the years and is now much more comfortable as compared to the past. Bridgestone DriveGuard utilises Cooling Fin technology to construct a reinforced sidewall with lighter rubber. This results in a sidewall that is only marginally stiffer than a conventional tyre. However this slightly harsher ride will ensure a peace of mind of extended travel after a tyre puncture occurs.
8. Myth: Run-flat tyres emits more noise than normal tyres

Run-flat technology tyre's stiffer sidewalls tend to produce more noise. However, with Bridgestone's Cooling Fin technology, the sidewalls are not as stiff as compared to conventional run-flat tyres, and as previously mentioned, these tyre sidewalls are only marginally stiffer. Hence there will not be a significant increase in noise when using Bridgestone's DriveGuard tyres.