---
With the ability to rock and roll on the toughest off-roads, the Jeep Wrangler Unlimited is a true blue 4x4 vehicle.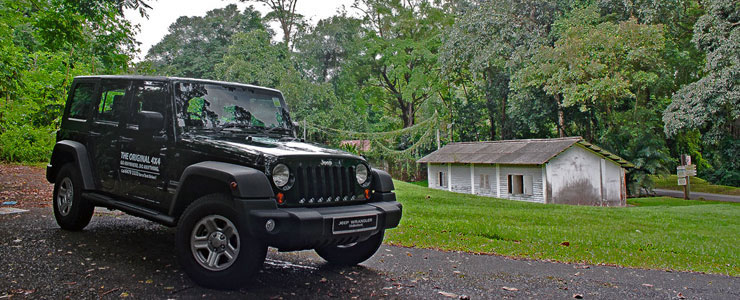 One glance at the Jeep Wrangler and you'll realise that this utilitarian figure has its own dictionary entry. Although Jeep continues to create cars such as the Commander, Compass, Patriot and the recently launched Grand Cherokee for comfort and capability, the Wrangler remains to be the marque's original off-roader and centrepiece.
While it's not the best-selling vehicle in its segment, the Wrangler's rugged image has stood the test of time well and is what gives Jeep credibility. With the motoring market changing beyond recognition, Jeep manages well to keep the Wrangler in place, allowing purists and fans to take solace that the pure off-roader is what they have come to expect from Jeep.
But an influx of comfortable SUVs meant that the giant needed an update. Hence, to appeal to the hardcore off-roaders and Wrangler loyalists, the brand decided to add a four-door model, dubbed the Wrangler Unlimited, to the Wrangler family.
Exterior
Like some of the oversized SUVs in the market, the Wrangler isn't exactly a love at first sight for everyone. Some think it's a crude form of SUV while others reckon it's a statement of life. We simply reckon it's the attitude it possesses which has fascinated its fans.
But that aside, there's a very attractive aura around this car. On longer stares, the Wrangler's unfiltered charm and off-road prowess screams no-nonsense from bumper to bumper. Jeep has managed well with the Wrangler, balancing its boxy squared-off edges and heritage without losing its practical appeal to its fan base.
The iconic appearance that continues to feature traditional styling such as rounded headlights and seven-slot grille is still intact. The feel of it is tough and reassuring and unlike higher-end mud-pluggers, the Wrangler is more menacing than grand - which is exactly how it should be. There's just nothing about the vehicle that suggests it will fall apart in years to come.
To put it up front, the Jeep Wrangler has a timeless appeal. Regardless of whether it's the Wrangler or Wrangler Unlimited, make no mistake, purists need not worry that this car will soon fade off in time. Its rugged outlook allows the car to stand alone in the off-road segment and is far too distinctive to be outshined.
This model is no longer being sold by local distributors
Horsepower
:
151kW (202 bhp)
Transmission
:
5-speed (A)
Acceleration (0-100 km/h)
:
-
Fuel consumption
:
8 km/L