Previously, Daihatsu and Toyota pretty much had the market done for with the Terios and Rush G. They are, well, pretty much the same thing. Now, they're trying things with a 7-seater..
It has been said previously, that hordes of bystanders start to "want in on the action" when a car is effective, stylish to a mild extent, affordable and attractive. It was the case with the Rush G and Terios. Where previously the Terios was re-badged as a Rush despite leaving the factory almost side-by-side, the Terios 7-seater, long wheelbase variant is made in Indonesia.
We know, we know, you're going to say an awful lot of things about how cars made in the land of mass-millionaires are built as well as a pair of "Leviss" or something from "Blurburrey," but it isn't that bad really, so we're going to get straight to the point.
Styling, features and equipment
Many fail to realize that the Terios is the actual successor to the bland but effective Perodua Kembara. It fits nicely into the gap where the 1.8-litre Toyota RAV4 left as soon as they were unequivocally upgraded to a 2.4-litre four-banger.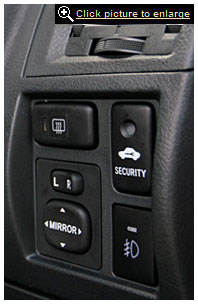 This seven-seater still is typical Terios, with obvious changes being the length of the vehicle. The wheelbase has grown to 2685mm - an 85mm increase over the standard model. This means that rear-most row passengers are seated right over the rear axle, and that the D-pillar windows have been lengthened.
Where the standard 5-seater, shorter wheelbase Terios claims to be a "bona-fide off-roader" with full time locking 4WD in its arsenal, the 7-seater, really, is just a rear driven, soft-core device with a whole lot of ground clearance in its class. If you need numbers, consider 200mm minimum road clearance and a 38.5-degree departure angle as figures.
That rather tall, square-ish, upright body in this case, translates into nearly a truckload's worth of space. the To put things into perspective, the new Corolla Axio might be around 390mm longer than the Terios, but the Daihatsu's cabin is actually longer and definitely more spacious. Middle row seats are split and can recline independently, and when both of them are, you get 600-litres of storage, or nearly 400 1.5-litre bottles of mineral water to be precise.
Local Terios-7s will receive dual compartment air-conditioning that ensures an ice-cold environment all the way to the back. Then, there's colour-coded everything from bumpers to door handles, projector and fog lamps, immobilizer, mudguards, powered everything, rear spoiler, roof rails, a semi-hard type spare tyre cover, front stabilizer and 215/65 R16 Aluminium wheels.
While the black dashboard trimmings were a definite plus in the quality department, they were somewhat let down by pseudo-metallic plastic inserts here and there, especially where centre console and door handle trimmings were concerned. Other than that, we don't have any complaints regarding poor build quality, and we must applaud Daihatsu for their stringent quality checks.
This model is no longer being sold by local distributors
Engine Type
:
4-cylinders in-line 16-valves DOHC DVVT
Horsepower
:
78kW (105 bhp) / 6000 rpm
Torque
:
140 Nm / 4400 rpm
Transmission
:
4-speed (A)
Acceleration (0-100 km/h)
:
13.6sec (tested)
Fuel consumption
:
11.6 km/L