---
This updated Impreza may have been redesigned to broaden its mainstream appeal but it doesn't lose out in terms of its looks.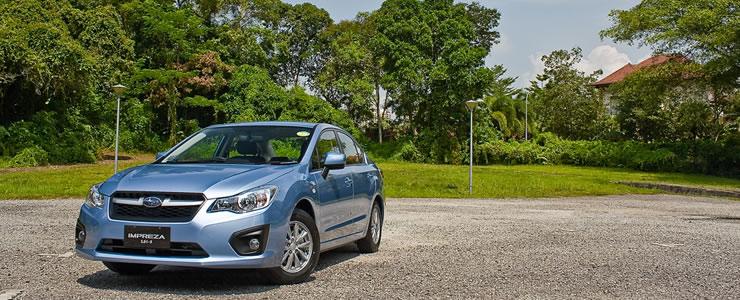 Subaru has been very well-known for its series of rally machines (both road-legal and illegal) under the WRX STi moniker. From the offensive boy racer exhaust note to the hissing sound generated by the blow-off valves every time the driver changes gears, the Japanese marque has excelled remarkably with its performance-oriented WRX and WRX STi models.
So it comes as a surprise when the updated Impreza appears somewhat mild. Unlike its predecessor, the sedan version of the base Impreza here doesn't reflect the part of something bigger to come.
Exterior
But that doesn't mean that it looks bad in any way. Just like the Legacy concept that was unveiled in 2009, the Impreza has an athletic physique that's characterised by bold defining lines on its bonnet, an aggressive nose and a pair of wide squinty headlights. The aim of this new Impreza was to widen its mainstream appeal and Subaru has spent a lot of money and time getting away from the boy racer façade.
With that in mind, the carmaker has succeeded. The new car is handsome and stylish without coming across as low-rent. Some may even argue that it resembles a baby Legacy which is no bad thing for the brand, considering the good looks of the Legacy. While the old Impreza was anonymous with a few awkward details, the current generation Impreza wears the new look well, thanks to the slightly bulged arches and a bulky bumper.
Less bulged and fairly neat is the back. Defined by squarish taillights, the rear side of the car is filled with smoother surfaces that will not look out of place. But it's not attractive either. Simply put, the design of the car was made to draw more attention for being efficient rather than downright menace and power.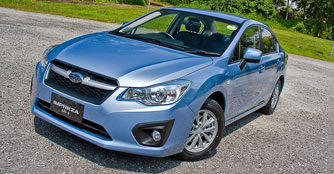 The Impreza sports a bulky face with bold lines on its bonnet
This model is no longer being sold by local distributors
Engine Type
:
4-cylinder 16-valve DOHC Boxer
Horsepower
:
84kW (113 bhp)
Transmission
:
Lineartronic CVT (A)
Acceleration (0-100 km/h)
:
12.6sec
Fuel consumption
:
14.3km/L