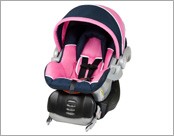 Baby Seat
Baby seats protect children from injury or death during collisions. There are three main types of child car seats, each designed for different ages (and sizes) of children. Firstly, rear-facing infant seats and convertible seats are generally suitable for babies up to 22lbs (about 10 kilograms), roughly from birth to 12 months. Next, forward-facing harnessed child seats are for children older than one-year of age and heavier than around 20lbs (9.1kg Lastly, a booster child seat is recommended when the child grows older and does not fit the forward-facing harnessed child seats. According to local regulations, anyone below the height of 1.35m will have to be secured with a child restraint.
Related Article
Choosing the right child seat




Britax B-Safe
Car Accessories, Baby Seat
Distributes crash forces across the strongest parts of the body and provides a secure fit, shields from vehicle intrusion, and contains the head and body.