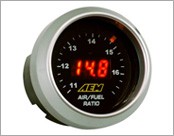 Meter
A car meter monitors important engine functions for a more accurate and smooth operation. Aftermarket racing meters come in a variety of colours and styling with the basis to inform the driver on the car's performance values at all times. For instance, a vacuum meter is used to monitor the amount of negative pressure or suction in the intake manifold. The voltmeter measures the current voltage across the battery terminals when the engine is not running, and reads the voltage provided by the charging system voltage when the engine is running. The water temperature gauge indicates the engine's operating temperature, allowing the driver to monitor the cooling system to protect the engine from overheating and ensure maximum performance. Other racing meters include gauges for oil temperature, oil pressure, boost and RPM. They are all designed with simplicity so as to be easily read and used.










APEXi DECS Tachometer
Category
:
Car Accessories, Meter
Combines classic RPM, warning, memory playback functions of the previous EL Tachometer with real time temperature and pressure display of an EL II Meter.


















APEXi AFC Neo
Category
:
Car Accessories, Meter
Includes FED Display & Interchangeable Button and Background Colours, unit incorporates both the SAFC and the VAFC and more.