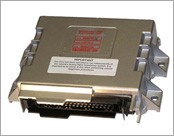 ECU
The Engine Control Unit (ECU) is the brains of the engine. It decides how much fuel is burnt, how fast it's burnt, ignition timing, throttle response - basically it manages your engine. A programmable ECU allows you to manually adjust the parameters to suit your driving style. There are aftermarket options that swaps old ECU's with newer pre-programmed units that feature Plug & Play engine management control units that raises horsepower, timing, fuel injection, electronic throttle control and valve timing for better vehicle performance.
Related Article
Engine modifications- What are turbos, ECUs and LCPs?












Hondata FlashPro
Car Performance Parts, ECU
The FlashPro allows full user tuning and datalogging of late model performance Hondas and Acuras. It includes Windows based software called FlashProManager.