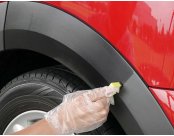 Coating Treatment
Plastics, vinyl, and rubber coating treatment adds additional protection to your car's interior and helps keep it looking like-new with comparatively minimal maintenance. It allows you to achieve this result by making your vehicle more resilient and easier to clean.










Plasti Dip Performix Multi-Purpose Rubber Coating
Spectrum Automotive Pte Ltd
Car Grooming, Coating Treatment
It's the original peelable, flexible, insulating, non-slip, durable rubber coating. Available in Black, Red, White, Blue, Gunmetal Grey, Smoke Enhancer colors.