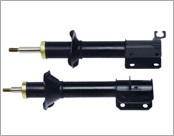 Absorber
The absorber minimises excessive motion when car travels over uneven surfaces. The absorber 'absorbs' by compressing and expanding whenever a driver hits a bump or knocks over a hole on the road while the shock absorbers enforces a piston through oil so as to develop the required hydraulic friction. This eliminates the excessive suspension motion.
Related Article
Car shock absorbers - The importance of knowing them well




























Koni FSD
$1,200
Car Performance Parts, Absorber
The Koni FSD is the first shock absorber to offer superior road holding without comprimising comfort. FSD stands for Frequency Selective Damping.