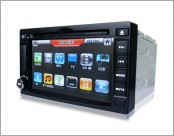 DVD Player
DVD players are usually grouped accordingly to their dimensions, namely single-DIN and double-DIN. The dimension of a single-DIN player would be 7-inches in width and 2-inches in height. Double-DIN or 2 DIN refers to DVD players that are twice in height of the single-DIN dimension, with the width maintaining the same. Single-DIN DVD players are space-saving and usually will be able to replace factory settling CD-Player or FM tuner. The screen is flipped in the body, which can protect the screen from wear. Double-DIN players are usually more popular nowadays due to the bigger screen, better visual effect and are easy to use. Car Audio manufacturers have also incorporated additional features such as built-in GPS navigation system, Bluetooth function and TV.
Related Article
Pioneer AVH-X5850BT - Go beyond the ordinary
Pioneer AVH-X8750BT - A more enjoyable commute
Pioneer GEX-2850DVB2 TV Receiver - Uninterrupted TV programmes on-the-go
























Philips CED 750
In Car Entertainment, DVD Player
Provides 4x50 W, SW, FM radio, support DVD, MP3, MPEG4, WMA, JPEG, USB, Bluetooth, multicolor display, 7.