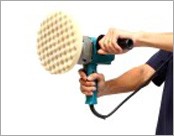 Car Polish
Car polish is a product that enhances the shine of the paintwork of a vehicle by eliminating scratches and dirt when applied to painted surfaces. It is a car detailing product that comes in several different forms such as liquids, sprays and creams.
Related Article
Polishing your car yourself - A DIY guide
















Autoglym Carbon Shield Coating

$348 - $888

(Grooming Rate)

Rimbunan Kuasa (S) Pte Ltd (9 Authorised Dealers)
Car Grooming, Car Polish
A collection of ultra-durable coatings and vehicle appearance maintenance products.