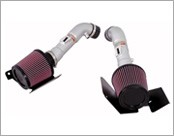 Air Intake System
An air intake system offers a larger and straighter airflow path into the engine of the vehicle. It usually consists of three main parts: air filter, mass flow sensor, and throttle body. Some intake systems can be highly complex, and often include specially-designed intake manifolds to optimally distribute air and air/fuel mixture to each cylinder. Aftermarket air intakes are offered in many different designs and sizes, but all of them are designed to have as little air flow restrictions as possible.
Related Article
Car air intake system - A better understanding of it






AHP Intake Kit
BMW M135i, BMW M235i, BMW 335i, BMW 435i
AHP Auto Solutions
Car Performance Parts, Air Intake System
The intakes are designed to allow the engine to breath freely, liberating top end power. Suitable for BMW M135 (F20), M235 (F22), 335 (F30), 435 (F32, F33,F36).