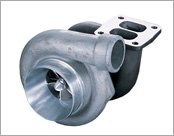 Turbo
A turbo is a unit that is designed to force air into the engine through the compressor. It acts as a method of forced induction. The more air you can get into your engine, the more power your car will make. The turbo is more efficient as it does not require engine power to spin it, so it makes more power per boost. How it works is that the turbo which sits on the exhaust manifold acts as a collector taking in all the gases into the turbine housing, therefore creating air pressure. The presence of this compressed air makes the fuel burn more efficiently, delivering greater power while consuming less energy.
Related Article
Turbochargers and force induction
Sort By
results/page


Surbo Surbo
Category
:
Car Performance Parts, Turbo
Surbo is an air charger that can help to enhance performance of the engine by allowing more air to flow into the engine during combustion.











Sort By
results/page