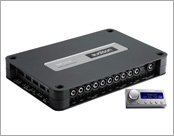 Processor
Processor, also known as audio signal processing, is designed to enhance the audio signals. With some configuration to the processor, your audio system will sound like it has been professionally tuned and optimised. The processor will clean the audio signals up by removing unwanted noises and make the sound significantly cleaner and sharper. When you upgrade to aftermarket speakers, the equaliser preset curves do not automatically adjust, resulting in under performance from your aftermarket speakers. By installing an audio processor, it can help to reshape the output of the preset equalisation curves to ensure you get optimal performance out of the new aftermarket speakers.
Related Article
Audison bit Ten - For that in-car concert experience




























Helix P-DSP
In Car Entertainment, Processor
The new P-DSP features excellent technical specifications which are combined with a feature package that could hardly be more impressive in actual practice.