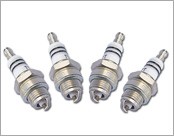 Spark Plug
A spark plug delivers electric current for an ignition system in the combustion chamber. It ignites the compressed fuel/air mixture by an electric spark. The plug is connected to the ignition coil that generates the high voltage needed to spark the fuel and create combustion, which causes your engine to run. Choosing the best spark plugs will dependent on the vehicle you drive and also individual requirements. Certain car models may require spark plugs with two or more ground electrodes, or ones that contain rare elements, like iridium or platinum, that allow for very high temperature operation.
















NGK Pro-V
Repair & Maintenance, Spark Plug
Advanced v-groove design for professional lawn and garden equipment the Pro-V series provides easy starting, less fouling, lower emissions&improved combustion.






NGK Racing
$278
Repair & Maintenance, Spark Plug
Racing Spark Plugs for motorcycles and specialty racing engines come in a variety of tip configurations and materials. They're designed for high-powered engine