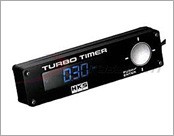 Turbo Timer
A turbo timer keeps an automotive engine running for a pre-specified period to cool down the compressor assembly from the lower gas temperatures to prevent premature turbo wear and failure. At the same time the lubricating oil from the engine is able to circulate properly so the turbine won't burn the lubricating oil that would otherwise be trapped within the charger with the turbine rotating at high speed.

Most of the turbo timers in the market are based on digital electronics. You can usually disable the turbo timers by an external switch, normally done using the handbrake switch or using an automatic one.
Sort By
results/page
APEXi Turbo Timer
List Price
:
$80
Category
:
Car Accessories, Turbo Timer
Features a compact interface design with an integrated air-fuel ratio monitor, O2 sensor signal as well as extrapolates and air-fuel ratio value.
Sort By
results/page