COE supply for August to October will shrink by 16.5%. Here's what you need to know in a nutshell and why you should care.
The Story:
There will be a sizeably
smaller supply
of Certificates of Entitlement (COEs) for the August-October quota period. 
Key facts you must know:
The quota, determined largely by the number of cars taken off the road in the preceding three months, will shrink by 16.5% to 4,904 a month for cars.
The quota for Category A will contract by 25.8% to 2,112 a month. 
Category B will be reduced by 8.6% to 2,083 a month. Category E shrinks by 5.3% to 709 a month.
Why you should care:
With fewer COEs available, expect COE premium to increase in the upcoming three-month period. 
Cat A premiums will likely be most affected, with a 25.8% contraction in available COEs. 
Recent car launches, like the Mazda3 and the Mercedes CLA Coupe, will likely put even greater pressure on COE prices, with Cat A likely to face the most upward pressure. 
What you can do:


If you are currently in the market for a new car, you may want to seek out cars that already have a COE tagged to it. 
Editorial Reaction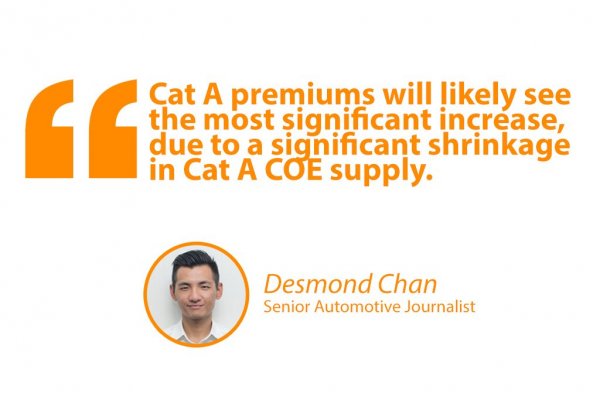 Cat A premiums will likely see the most significant increase, due to a significant shrinkage in Cat A COE supply. While COE prices will likely go up, we don't anticipate a significant spike in premiums. This is because the high number of COE renewals means that there is a reduced need for buyers to replace their old cars with brand new cars. Additionally, the weak consumer buying sentiment on the back of slow economic growth will likely also help ease the upward pressure on COE prices.
Moving forward, if the number of COE renewals continue to be high, the COE quota will continue to remain lower past the August-October period, likely fewer than the 7,181 car COEs available in last year's November-January period.
Related Categories
Recommended Merchants(View all)