History of BRILA
Product Introduction of BRILA


BRILA Window Coating posseses a combination of powerful water and oil repellent properties. The reactive agent fluorine allows superb durability and offers clear visibility. Anytime, anywhere and even if it rains, it keeps a field of vision clear.
BRILA Window Coating is a higly durable coating which directly forms a chemical bondage between fluorine and glass without binders, and you can realise the water repellent effect for a long time.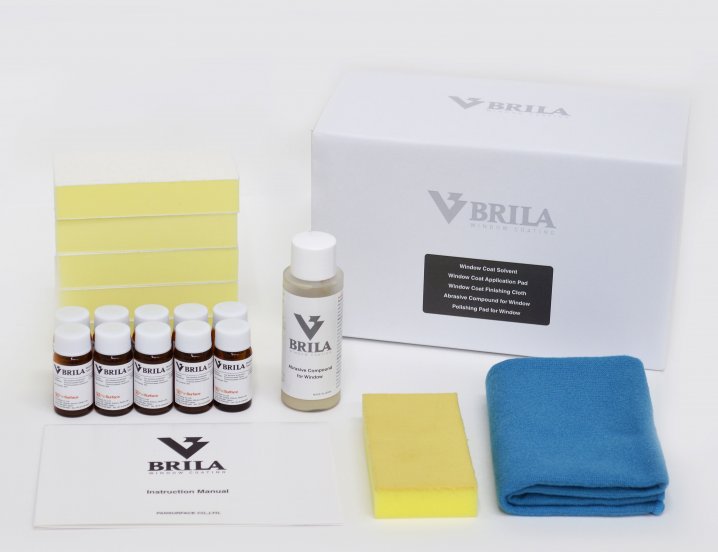 Fast Reactive Agent Fluorine
Conventional permanent water repelling agents have a slow reaction speed and are unable to adhere to the surface of the glass . This means it has limited durability and any grime or water that penetrates via these flawed areas will lower their water repelling effect even further.
BRILA Window Coating quickly creates a chemical bond directly with the surface of the glass and allows high water repellence and long-term water repelling effects by creating a uniform, level coating film.
High Water-Repellent Capability


Due to water contact angle of 110° is materialised, it is possible to secure a clear field of vision in torrential rain. In addition, due to running water angle of 17° which has a good water fluidity, it is possible to secure a clear vision with the only intermittently moving wiper.
* BRILA Window Coating is designed to be used in conjunction with windscreen wipers. For safe driving, please continue using your windscreen wipers appropriately after coating.
Durability of Fluorine

Excellent durability is materialised to form a chemical bond with glass surface with...
Read more [+]
| | |
| --- | --- |
| | Merchant Ratings: |