History of BRILAProduct Introduction of BRILA


BRILA Interior Coating is a new type of coating system which utilises a bacteria avoidance response that is anti-bacterial, mould repellent, and deodorising. It delivers a comfortable, hygienic and safe car interior for you family, particularly for children with allergies or atopic conditions.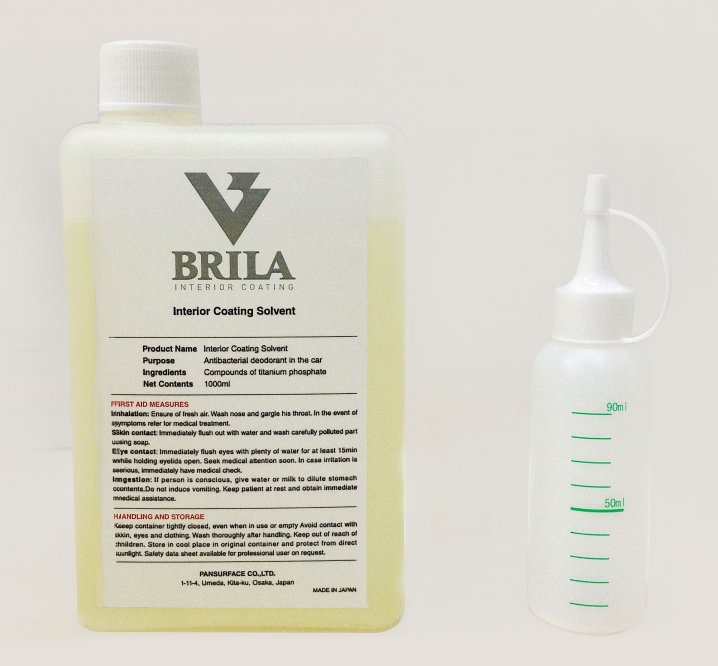 What is Barrier Effect?
BRILA Interior Coating is capable of manipulating the information exchange capability between bacteria. As we knoe, bacteria can mutate and become resistant to chemical agents and antibiotics. The drug resistant gene is passed directly from one bacterium to another, thus spreading the resistance.
However, by changing the environment to one where bacteria cannot inhabit, a "repellent" reaction to that area will be achieved and over time, not a single bacterium can thrive. BRILA Interior Coating is effective in fighting against more than 700 varieties of bacteria and mould such as E. Coli, salmonella, MRSA (Staphylococcus) and vibrio.
Excellent Antibacterial, Mold Prevention, Mite Control and Deodorisation
There are more than 600 varieties of massive amount of antibacterial and mould prevention effect. Those are effective for bacteria such as O-157, salmonella, MRSA, vibrio.
Mouldy odour of wind from air conditioner
Odour of tobacco
Residual odour of pets
Body odour or smell of sweat
Ammonia odour
Smell of garlic etc
Highly Secure Safety for Babies
It has cleared the world most strict standard of EPA (United States Environmental Protection Agency). According to test results such as accreditation test grade 6th ...
Read more [+]
| | |
| --- | --- |
| | Merchant Ratings: |