---
Armor All - Extreme Tire Shine Gel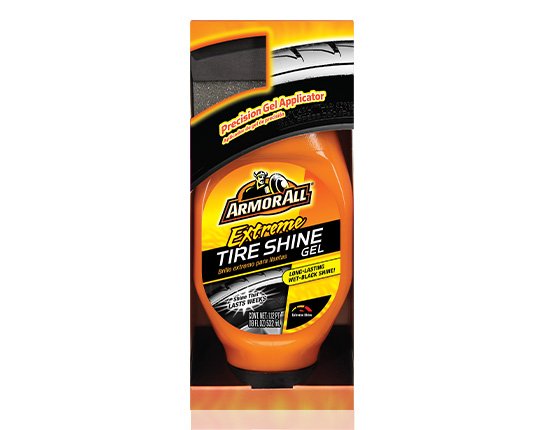 Extreme Tire Shine Gel is an advanced formula, engineered for extraordinary results that last for weeks. As a pioneer in tire care, we developed an incredibly rich, powerful gel that adheres to your tires, forming a resilient, durable shield. And it's fortified with high molecular-weight silicone that will preserve your tires' intense, captivating shine and rich black look.
Features:
Delivers serious WET BLACK SHINE that lasts for weeks
Rich, durable gel coats for a smooth, even look — without messy overspray
Protects against harmful elements that can cause cracking and fading
Usage Directions:
Shake well before use.
Unscrew cap and remove foil seal before dispensing.
Squeeze gel into groove on gel control applicator.
Spread evenly around tires.
Shine will intensify over the next few minutes!

Comes with the gel and the applicator and easy to apply. Easily hold up to 7-10 days. The shine will appear within 20 mins. After using it about 12-13 times, I still have about half bottle left. Considered value for money based on the no of times I can use it for on the 4 tyres. - Jon, Owner of Hyundai Elantra SMD35--L
Have applied for 4 days and it is still shining. But thankfully there is no heavy rain when I am on the road.
| | |
| --- | --- |
| | Extreme tyre shine for weeks |
If you are looking for a tyre shine or gel that gives you the right black look for a reasonable long period, can consider this. Will give you the shine look for weeks. Easy to apply too. - Kelvin, Owner of Toyota CHR SLT40--Y
| | |
| --- | --- |
| | Merchant Ratings: |