The Punch P1000X1D is an efficient mono amplifier producing 1,000 Watts into a 1-Ohm or 2-Ohm load without excessive pull on the electrical system. The frequency response of the P1000X1D is optimized for mid-bass and subwoofers.
The P1000X1D 1,000 Watt full-range mono amplifier is versitle enough to run as a dual-mono system (one amplifier for front-left speakers and one amplifier for front-right speakers) or just for subwoofers. This amplifier has on-board Punch Bass to provide low frequency "boom" and features an infrasonic filter to keep damaging inaudible frequencies from damaging your subs.


Features

0°/180° Phase Switch
24dB/octave crossover
4 Gauge power/ground terminals
Cast aluminum heatsink
Infrasonic filter
MOSFET output stage
MOSFET power supply
RCA pass-thru
Top mounted controls
Top Mounted LED Indicators
Specifications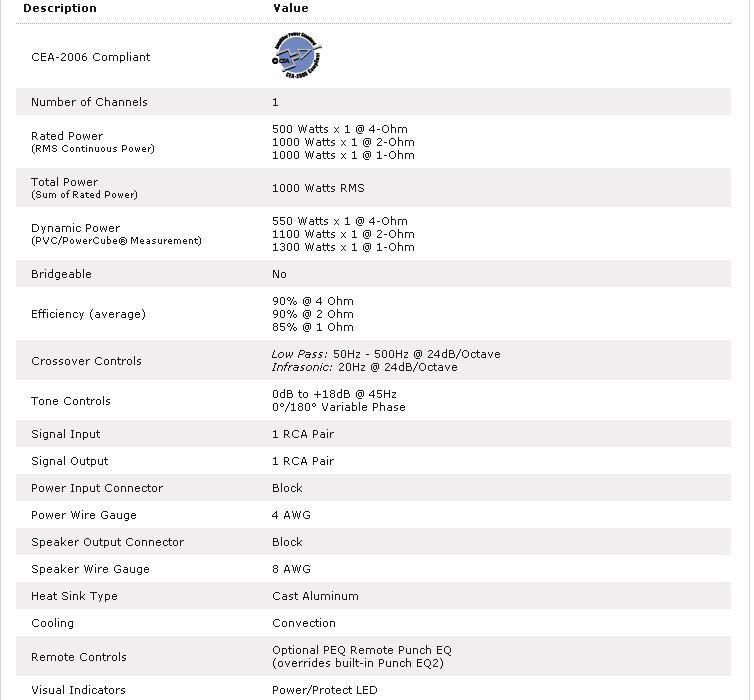 | | |
| --- | --- |
| Simply a great single-channel amp! | |
I've been totally amazed by this piece of amplifier! Being single-channel, I had not expected too much out of it. But it blew me away right after I plugging in the woofers to it. I must say that these produce g...
Read More »
Distributor
:
RF Electronics Pte Ltd
Address
:
18 Boon Lay Way #03-127 (map)
Office No.
:
63166242
Opening Hours
:
9am - 6pm (Mon - Fri)

Merchant Ratings: